Check MX Records For Your Domain With MX Lookup Tool
When you are done setting up your website, the next most important step is to set up MX Records. For those who don't know what MX Records is, according to Wikipedia,
An MX record or Mail exchanger record is a type of resource record in the Domain Name System (DNS) specifying how Internet e-mail should be routed using the Simple Mail Transfer Protocol (SMTP). Each MX record contains a preference and a host name, so that the collection of MX records for a given domain name point to the servers that should receive e-mail for that domain, and their priority relative to each other.
Once MX Records are set up, how will you know if these records have been implemented properly according to their respective priorities? Most people waste their time in forums asking whether their MX Records have been set up properly. The best way to check it is to use this MX Lookup Tool. All you have to do is to enter your domain, and it will look up MX Records for you within seconds and list them according to their priorities.

According to the site, the MX lookup is done directly against the domain's authoritative name server, so changes to MX Records should show up instantly.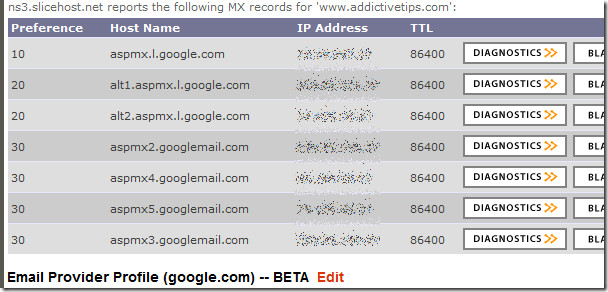 By clicking Diagnostics, it will connect to the mail server, verify reverse DNS records, perform a simple Open Relay check, and finally measure response time performance. You can also check the IP Address of each MX record against 147 blacklisted DNS. Enjoy!