Control Music Playback For YouTube, Google Music, Rdio & Others From Chrome Toolbar
If you like listening to music from various popular services, such as YouTube, Google Music, Rdio, or Grooveshark, pausing or switching between songs can sometimes get difficult, specially when you've got a bunch of tabs open and are working on something else. Music Controller is an extension for Chrome that places a simple control panel on your toolbar that quickly allows you switch, pause/play songs or mute all background music at once, regardless of which tab the song is in. With it, you no longer have to be worried about whether you're playing music in Pandora, Google Music, Grooveshark or any other service, as you may easily pause, skip or thumbs up for a song from the pop-up in your toolbar. The only requirement for the extension's working is that the music playing  tab should be in the same Chrome window.
When you're working online and don't want to switch tabs to change a song, click the button in the toolbar. From here, you can skip, pause, and vote up or down for tracks that you've got open in multiple tabs. The pop-up displays the song title, artist name and a like/dislike option for each track. Moreover, the mute button quickly pauses all background music, and you can click on a track title to switch to that tab.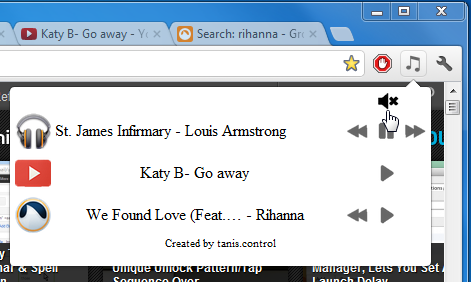 There is a whole litter of extensions like this available in the Chrome Web store but this one easily supports more services than most of these extensions. The extension doesn't offer a lot of controls, just the normal play/pause and next/previous buttons. Controls for all services appear in the same panel and that's a great way to switch between listening to music on different services. The extension supports some fairly good services but support for additional music streaming services like Last.fm, Pandora and Spotify would be a great addition.
Overall, Music Controller offers you an awesome way to listen to music, without having to switch between multiple tabs. Music Controller is a nifty little tool that has no options or settings, whatsoever, and is worth a look for all the music junkies out there.
Install Music Controller For Google Chrome