Copygram – Search & Download Instagram Images Without An Account
Instagram; that world of pure image sharing bliss that requires you have an iPhone to get in isn't just about picture sharing or laughing at the daily funnies. Instagram is a great resource for original images and what's more is the images are classified (tagged) by real people and not by search engines so you know you can expect highly relevant images if you were to search them. While Instagram is great, it isn't available to people without an iPhone, Copygram is a web service that changes all that. The site lets you search for users or images by entering names or tags respectively on Instagram without needing an iPhone or an account con the popular image sharing site.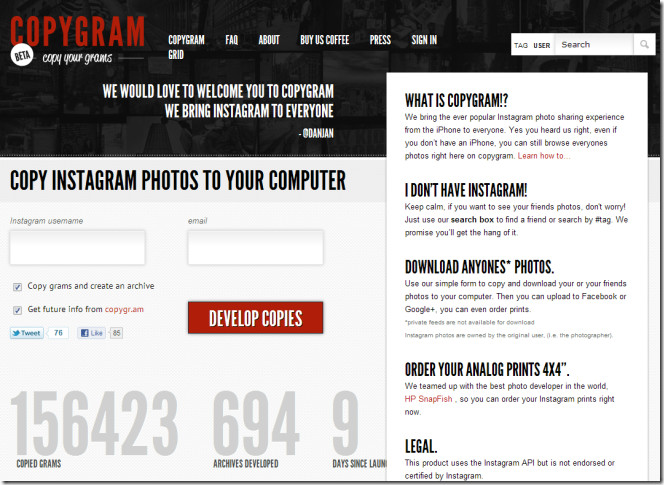 You can sign into the service using your Instagram account and use it to download your entire collection to your hard drive. A link is emailed to you, clicking on the link downloads the images in your account to a zipped folder on your hard drive. If of course you don't have an instagram account, you can search without one. The search bar in the upper right hand corner lets you search either users or tags. The tag search lists the number of images uploaded against the search word entered and all other tags that include the word you searched for.

Click on any one of the tags to view all images associated with that tag. So whether the lack of an iPhone kept you from enjoying the huge collection of images on Instagram or you're just an Android lover who's vowed to never hold an iPhone, you can now enjoy Instagram without either.