Create And Play Your Own YouTube Music Playlist With YouTube Music Player
YouTube is probably the best way to watch videos and listen to music for free. But it happens all so often that we browse across several search criterias to find related or favorite YouTube videos, and are unable to play them in sequence. For example, one might be interested in creating a list of songs one after the other. To some extent this issue can be resolved with the help of MultiPart Tube (an extension for Chrome) which we reviewed a while back. While MultiPart Tube only played related videos, YouTube Music Player is a Firefox extension that allows users to create a custom playlist of miscellaneous videos (mostly music videos) which are then played in the YouTube Music Player.
To start using this extension, right-click a title and select the Add To YouTube Player option. Alternatively users can also play the video immediately and add a specific video as the next video by selecting the appropriate options from the context menu. Once all the desired videos are added to the list, click Play on the status bar to start the videos in sequence. The Speaker button can be used to manage the volume option for the player.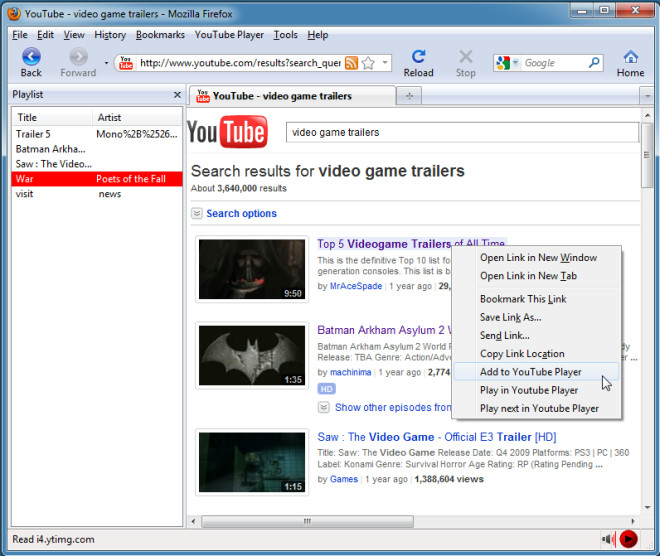 To play, remove, sort, add a title or search for alternative videos, right-click on the added title. Clicking on the Search For Alternatives section adds similar videos in in a drop down menu attached to this option.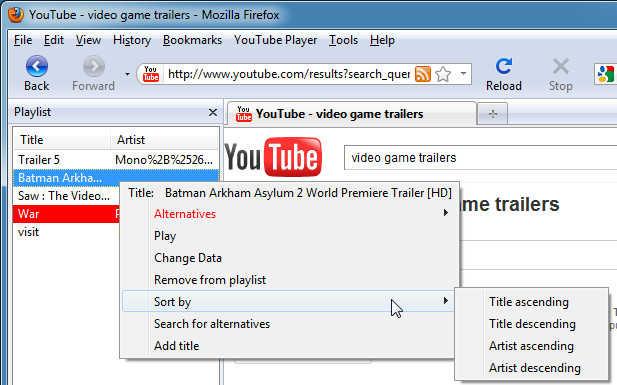 All selected content is played in sequence within the YouTube Music Player which pops up separately. The player has some similar streaming options like the default YouTube layout, including the full screen option. To jump to the next or previous video, click on the respective arrow options on the player.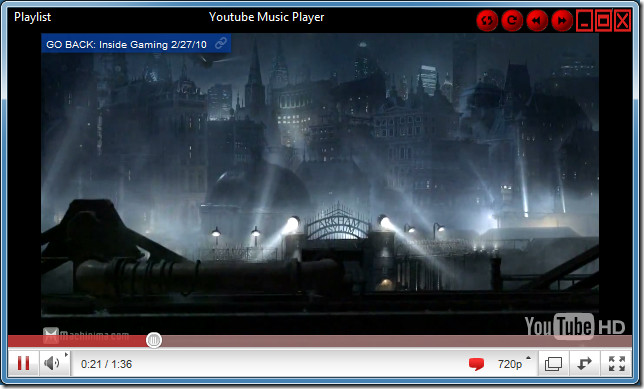 Advanced options for this extension can be accessed from the Tools -> Add-ons menu in Firefox. The Video tab allows managing of video playing options, including, playback, quality, randomization, video loop, etc.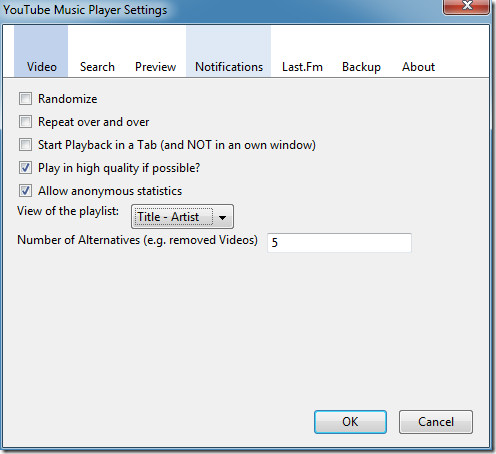 The Search tab allows setting the number of searched videos and sorting criteria. Whereas, the Preview tab can be used to manage miscellaneous preview and start time options. The notifications tab allows displaying of error messages, while the Last.fm tab can be used to enable Last.fm scrobbling. Similarly, the Backup tab can be used to configure backup settings.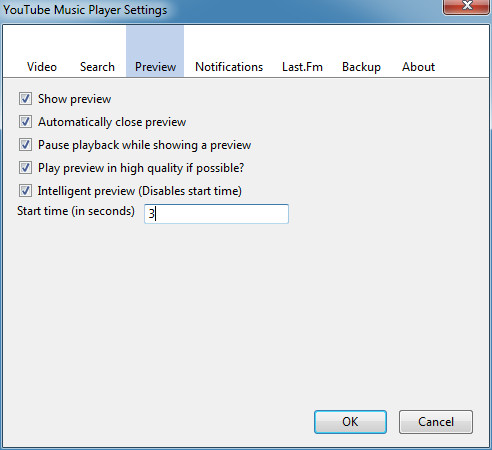 YouTube Music player is a solid way of organizing miscellaneous videos for creating a customized Music (or any videos) playlist. This extension works with Firefox 3.5 – 4.0*.
YouTube Music Player extension for Mozilla Firefox