Create Free HTML Based User Data Forms With Form Builder
HTML Forms don't just take a lot of time to create; making the form layout fit with a site design can often be frustrating. Form Builder is one among many other form builders that will make life easier for you. The free form builder gives you exactly what you need; a form. No annoying templates to choose from, you pick the fields and set variables yourself; preview the form and if you like what you see, have the site send you the code.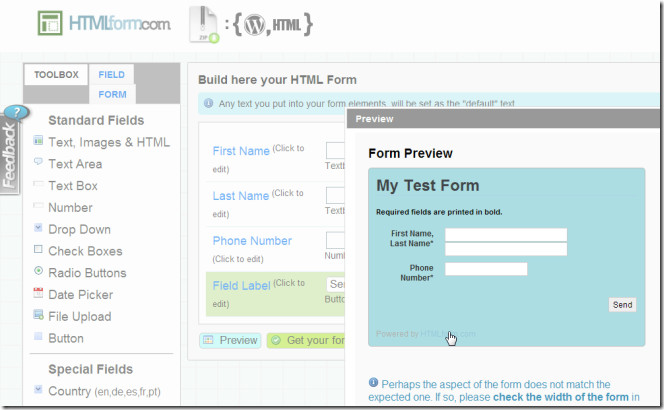 The site is preloaded with the standard form fields; text areas, text boxes, drop down menus, buttons (check and radio), date picker, file upload etc. The different form elements can be edited any way you want and their sequence can be changed by dragging & dropping them. Apart from the general form fields, special fields like country, email, map, IFRAME and reCaptcha can also be added.
The Toolbox tab holds all field options that you can add to the form. The Field tab is used to edit a particular field and the Form tab is used to set form options like error messages, background color etc.
Once you've created your form, you can preview it by clicking the Preview button. When you're happy with what you've got, click Get your form, enter your email ID and a zipped file with your HTML code will be sent to you.