Get Firefox's "Most Visited Pages" URL Dropdown In Chrome's Omnibar
Firefox allows users to view their most visited pages in a drop-down right from the URL bar, but Chrome lacks this useful functionality. Dropdown List Of Most Visited Links, an extension for Chrome, as the name implies, displays a list of sites that you visit the most. The list is displayed in a dropdown menu and can be accessed from the address bar. The pages are retrieved from the history, and clicking a link opens the page in the current tab, whereas a middle click on the link opens it in a new tab (as normal browser behavior would dictate). Moreover, the extension is highly customizable, and you can change the List Style, Appearance, List width, Number of links and more.
After installing the extension, you will notice that a drop-down arrow is added in your address bar. Simply click this arrow and a drop-down list will be displayed with your most frequently visited websites. From here, you can then open a page in the current tab by clicking it or open it in a new tab with a middle click. You may also remove any website from this list by clicking the tiny (x) icon at the end of the website title. The background color, hover color and other colors can all be changed from the extension's Options.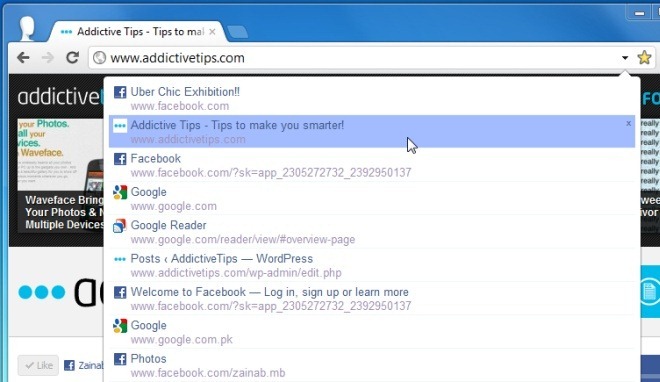 Multiple options are displayed for the List Style and the List width can also be easily changed. You can also change the number of links, colors and middle click action. When done, hit the Save button and you're good to go.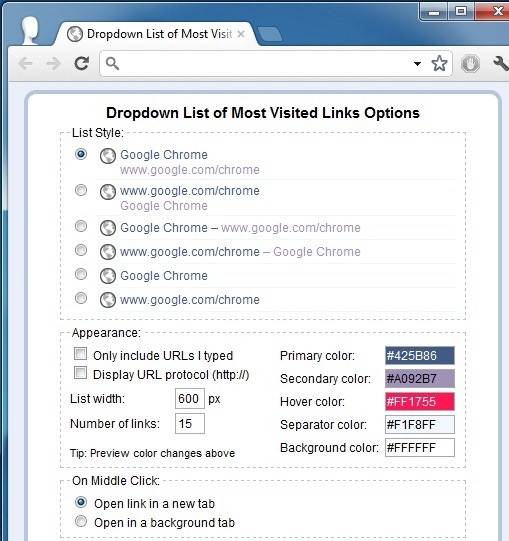 This is quite a handy extension that lets users effectively manage and access their recently visited pages. With it, you can browse your most visited pages with only a click or two, without having to navigate to the default chrome's history page. The extension can be installed from the Chrome Web Store link below.
Install Dropdown List Of Most Visited Links For Google Chrome