Graph Words: Understand Words & Their Meanings Visually [Web]
Want to improve your vocabulary or language skills? Graph Words, an online web application, is a visual & interactive thesaurus which displays words in a graphical pattern. This visual thesaurus creates a graphical representation of the word you are looking for in relation to other synonyms. All you need to do is, enter your desired word and hit Draw, after which, the word will be displayed at the center of the page while the synonyms will be displayed all around the main word. You can mouse over the nodes and drag them to separate locations. Also, change the pattern of the graph by dragging these nodes. All words are represented in nodes, you can also view some smaller nodes. When you mouse over them, a tooltip appears to explain the general meaning relative to that particular branch. In addition to that, you can also save the graphs in a PNG format and access them when offline. Graph Words is powered by WordNet, a lexical database for English.
To start off, just type a word in the search bar and hit Draw, only in a few seconds a graphical representation of the word will be displayed. The main word is placed at the center of the page while the synonyms surround the main word. Mouse over the smaller nodes to see the meaning of each related branch. Furthermore, click on each node and move it anywhere around, in order to change the shape and pattern of the graph. In addition to that, you can save the image for later use, just click Save as image on the toolbar and your image will be downloaded in a PNG format.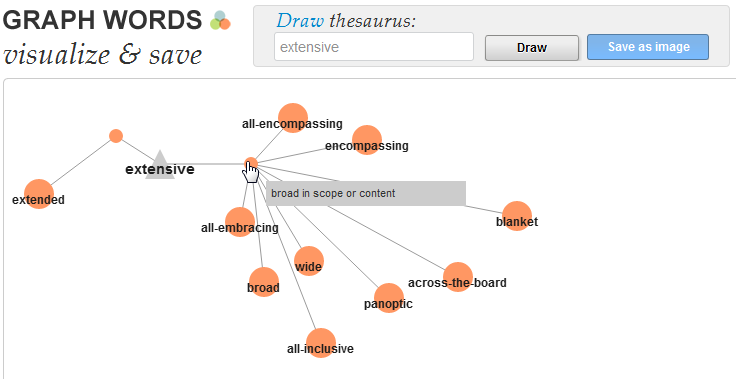 This  is an easy-to-use tool that can improve your vocabulary and makes your learning experience more interactive. Graph Words has a visual effect which lets you understand & learn words quickly. It is specially recommended for young students.