MiLocker Gives Your Non-Rooted Android's Lockscreen A Taste Of MIUI
MIUI is one the most loved custom ROMs for Android devices. Not only does the Chinese-based ROM have a great UI (most of which is reminiscent of the iOS interface), it is extremely feature-rich and looks-wise customizable. The ROM allows the user to customize is its lockscreen, for which it features a vast online collection of unique and elegant themes. But since MIUI works only on rooted devices, not all users have had a chance to try the ROM on their device. MiLocker is here to change that; albeit just partially. Rolled out into the Android Market by the MIUI team itself, and boasting a comprehensive suite of some of the most popular MIUI lockscreens, MiLocker is a custom lockscreen replacement app for rooted as well as non-rooted devices.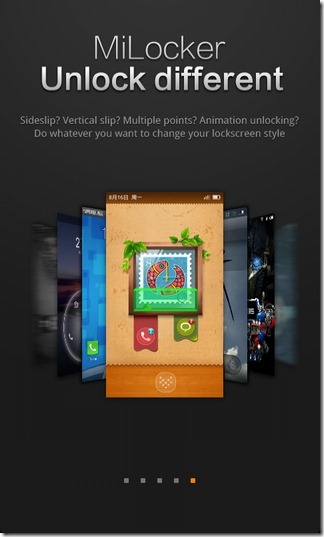 In essence, MiLocker is the lockscreen aspect of the MIUI ROM extracted to work on all devices. Ranging from the popular 5-way lockscreen to the one based on Android's latest OS, Ice Cream Sandwich, MiLocker sports plenty of free, downloadable lockscreens and lockscreen wallpapers.
Once MiLocker is installed, launch the app from the app drawer to access its online store, download and apply lockscreens. On its main interface, you have a couple of tabs: My Lockscreen, which lists all installed lockscreens and Online Lockscreen, which displays Latest and Hottest lockscreens from the online library under respective tabs. There is also an option to manually search for lockscreens.
Once you find a theme that catches your eye, just tap its thumbnail and hit the Apply button. You can choose to apply just the theme and not the wallpaper. You can also change the wallpaper later by selecting Set lockscreen wallpaper from the app's settings screen.
As of now, MiLocker has a few compatibility issues with certain apps and screen resolutions. Also, if you aren't Chinese, you might not be able to search for certain themes by name. However, these little issues are insignificant before the functionality that the app provides, and hopefully, will be resolved in future updates.
The app is undoubtedly one of the best of its kind on the Android Market (others being GO Locker and MagicLocker). If you haven't used the MIUI custom ROM yourself, you might not be able to appreciate the app as much. To get an idea of some of the kinds of lockscreens the app will be featuring, view our compilation of 20 Awesome MIUI Lockscreens.
Download MiLocker for Android
Update: The app seems to have been pulled from the Google Play Store. MiLocker can now be found integrated within MiHome, the standalone home screen replacement app that brings MIUI 4.0 launcher to your Android.