Export & Import Opera Settings [Backup]
In your browsing profile, there is a wealth of important information stored which in most cases you cannot afford to lose. There are many tools out there to backup your browsing data like bookmarks, downloads, add-ons, stored information etc, but how about a tool that guarantees you the peace of  mind that you wont lose your profile with all the valuable data in it after you have decided to move it to a new location?
Importing & exporting profiles within Opera, like any other browser are nothing short of a trick. I have personally lost my profile data many times while transferring it to another drive, too when I was least concerned about losing it. After all, you count on the big name browsers to provide you with the capability of transferring your profile without losing an ounce of data. Not to mention all the pain involved in backing data up and loading it onto a new profile still shivering of fear what if you never get to see it again!
Stu's Opera Settings Import & Export Tool is developed explicitly to take much of this hassle away. This tiny piece does hell of a job in backing up and restoration of your bookmarks, mail, contacts, sessions, preferences, etc and enables easy transfer of them between Opera installations in different folders or drives. It also remarkably restores the settings if they appear to be lost.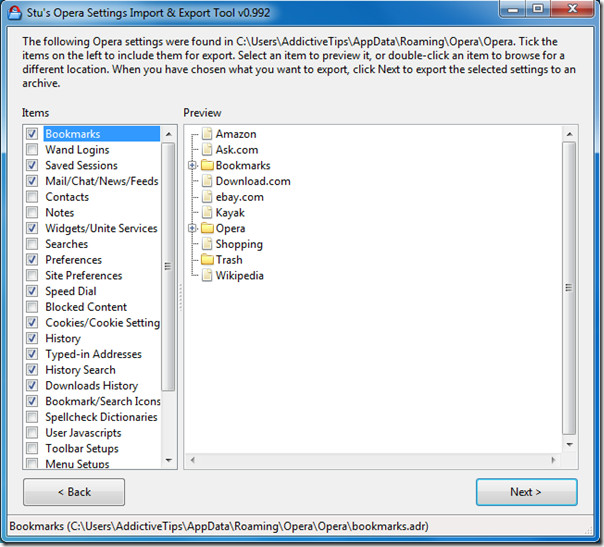 The best feature is it's usability. It's extremely easy to use and allows you to impeccably transfer the individual Opera profile settings & intelligently locating all the existing profiles on a typical Windows OS. It also works fine with Linux based systems. It stores setting files in their original state in an open archive so your exported settings are always restored easily if need be. It automatically corrects .ini paths while importing from a different folder.
It is a portable tool that is only 520KB in size. It works on all versions of Windows, we tested it on Windows 7 32-bit OS.
Download Stu's Opera Settings Import/ Export Tool