Lock Scroll Position In The Firefox Bookmarks Sidebar
Do you scroll through your extremely long and never ending list of bookmarks in Firefox, close the bookmark bar only to open it again and find out you lost your place? Even if you sort them in folders, a folder can have over a hundred bookmarks too. What you essentially need is a bookmark for your bookmark sidebar. The Bookmarks Sidebar Scroll Retainer is an extension for Firefox that locks the vertical scroll bar in the bookmark sidebar where you were last scrolling. When the sidebar is closed and then reopened, the scroll bar is in the same place you left it when you closed your bookmarks with the last clicked page highlighted.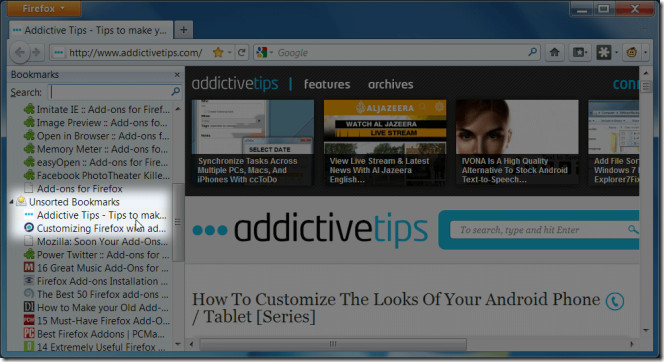 Your scroll position is retained in a single window, if you close and reopen Firefox, and then open your bookmark sidebar (using Ctrl+B) the scroll bar will have returned to the top. The scroll position is marked for one browsing session across multiple tabs. You can open and close the bar any number of times in the same window and it will remember your last position and the even the last page you clicked but it will not remember your place across different windows.
Install Bookmarks Sidebar Scroll Retainer For Firefox