Loomnit Chrome Extension – Share Images, Files, Email, URL Quickly
Loomnit is a Google Chrome extension that quickly provides a short URL to share website links and uploaded files or images. For example, you can upload a file or image and instantly get a short URL that can be used to share them with anyone via the Loomnit website. All uploaded content can be downloaded by anyone with the appropriate link. Although previously reviewed Ge.tt provides a similar service, Loomnit allows doing so directly from the Chrome browser.
To share a URL click the Loomnit icon next to the address bar, choose URL from the five given options, enter the website address and click Loomnit.
This will generate a short URL for the website that you can share with anyone to allow them to access the website with this shorter URL version. The same can be done for an email address, after which the entered email address will be viewable at the given link. This can be helpful if you wish to share an specific or a number of email addresses with someone via the cloud. You can also choose the Text option, enter text and get a short URL to view the added text from a Loomnit link.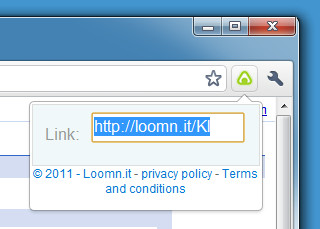 Similarly, to upload and share an image or file, choose the appropriate option from the pop-up box.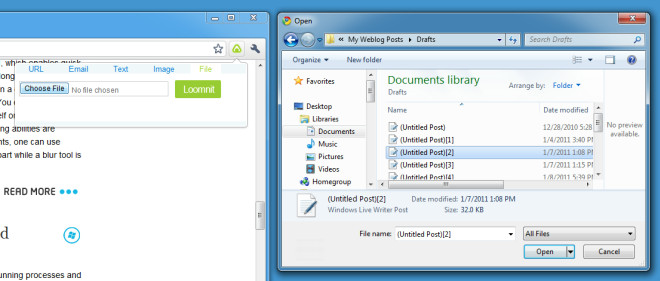 This will generate a URL from where the file or image can be downloaded by anyone.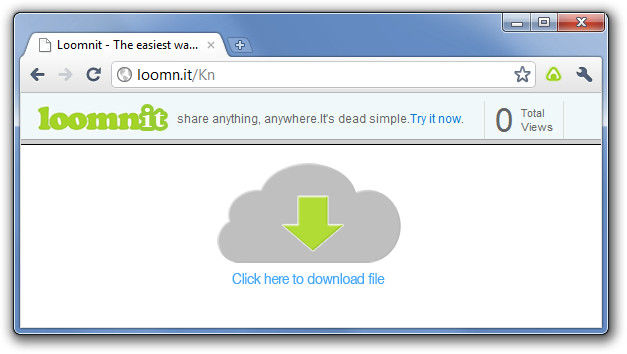 Loomnit Extension for Google Chrome