Manage And Preview All Opened Tabs In Chrome With Tabs Visual Manager
Tabs Visual Manager is a Chrome extension that provides an instant thumbnail preview of all the opened tabs in a new window or tab. In other words, the user gets an overview of all the opened tabs in a speed dial like window. This can be very handy for people who work with several tabs and often find it difficult to remember all the opened websites.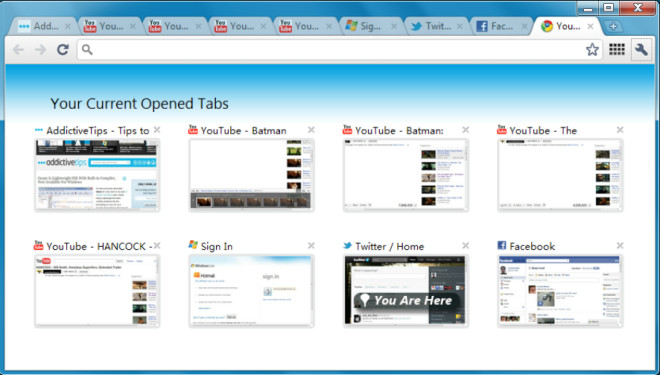 Just click on the Tabs Visual Manager button next to the address bar, to view preview of all the opened tabs. The current tab is displayed in the overview with a "You Are Here" label. To switch to any tab, simply click on it.
It has happened with repeatedly that while working with multiple tabs, I have lost track of an important webpage where I had to execute an urgent task (among many). Having a birds eye view of the opened sites can indeed help users elude such problems. For instance,  a person may be composing an important email, checking his/her Facebook account and researching on Wikipedia. When switching to less important tasks (e.g. going through several Facebook tabs), he/she might lose track of the email being composed, as the tab might have been overshadowed by other tabs. Checking a visual view of the opened tabs can hence, allow users to remember an immediate task that they might have forgotten while indulging in other less important activities.
Which reminds me, what's your Farmville score?
Tab Expose Extension for Chrome
Update: It looks like the developer has updated the extension and changed its name to Tab Expose. The link above has been updated to reflect that.