Install FolioMod Custom Android ROM on Toshiba Folio 100 Tablet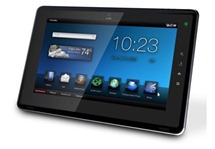 FolioMod is a custom Android ROM for the Toshiba Folio 100 tablet that brings several enhancements to the device not present in the stock ROM, along with Google Apps already included by default. For the feature list, download link and installation instructions, continue reading after the break.
Disclaimer: Please follow this guide at your own risk. AddictiveTips will not be liable if your device gets damaged or bricked during the process.
FolioMod has been brought to us by XDA-Developers forum member Dexter_nlb who took the stock ROM for the device and added several enhancements to it including Google Apps, additions from the Nvidia SDK and improved OpenGL ES support. The result is a faster, more stable and enhanced version of the stock ROM with a Quadrant score of 3000+ and OpenGL frame rate support of 50.5 FPS, which is quite impressive.
To install FolioMod on your Toshiba Folio 100:
Download the ROM from the link given below, copy it to an SD card and insert it into your device.
Restart the device and when it turns on, enter 'Recovery menu' by pressing the 'Power' button once, followed by the 'Volume Up' button while the device displays the Toshiba boot screen.
Press 'Volume Up' for factory reset or system update.
Press 'Volume Down' to proceed to system update.
Confirm the system update by pressing 'Volume Up'.
Wait patiently while the ROM is installed. The device will reboot once the process is finished. Do not be alarmed if a black screen appears for around a minute after the first reboot.
Although rooting your device is not required for this procedure, if you want to root it before or after flashing this ROM, enable USB drivers for your tablet by following our guide on how to enable Android USB drivers for Tegra based Android tablets. Once you are done with that, simply visit our guide on how to root your Android device and follow the instructions for Toshiba Folio 100 there under the Tablets section.
In case you need to perform a factory reset on the tablet, repeat the above steps without having the SD card inserted and when in the recovery menu, press the 'Home' button to view the menu and choose the 'Factory reset' option from it.
To revert back to the stock ROM, download the stock ROM from the link given below and install it using the same steps as above. In fact these steps can be used to flash any stock or custom Android ROM to Toshiba Folio 100 as long as the ROM is supported by this device.
For more information, patches and fixes for the known issues, feature requests, updates and help with problems, visit the XDA-Developers forum thread and contact the developer.
Download FolioMod v1.3 Custom Android ROM for Toshiba Folio 100
Download Stock Toshiba Folio 100 ROM