Print Plus – Select & Print Important Sections Of A Web Page [Chrome]
Web pages are made for viewing on your screen and not for printing on an A4 size paper. While you should always take care not to print anything unless it's absolutely necessary (think green) there, nevertheless, are times when you have to print a web page and a web page that is small enough to fit your screen (no scrolling needed) might take up to 3 pages to print. Print Plus is a Chrome extension that helps you save both paper and printing ink, it lets you select which sections of a web page you want to print and omits the unselected ones from being printed.
The extension adds a printer like button with a red plus imposed on it next to the URL bar. To use the extension click the button, a horizontal bar will appear and stick to the top of the window. The print command will be sent by clicking the Print button on this bar. Mouse over different sections of a web page and you will see an orange outline appear around different sections of a web page. The extension identifies and selects sections individually and collectively depending on how you position the mouse.

Click a selection and it will be highlighted with an orange box. The highlighted sections represent what will be printed. To remove a section from print, click the small gray button in the top right of the orange box and the highlight will be removed.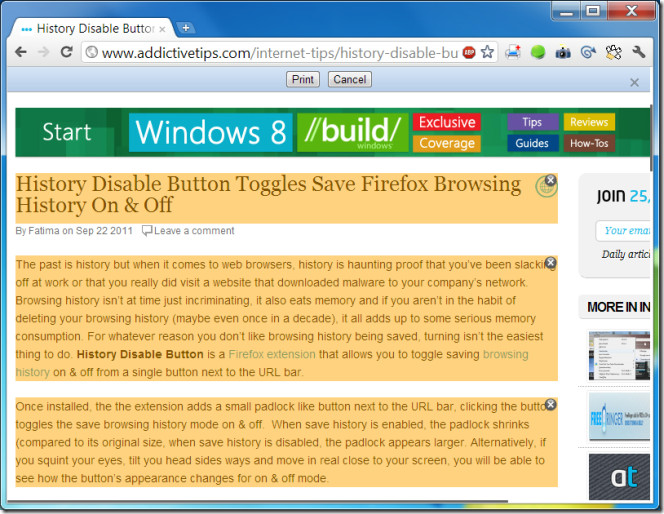 Once you've selected what you want to print, hit the Print button on the extension's bar and feel proud that you may just have saved a tree's life. The extension works in Gmail as well and can be helpful when you just want to print the email body. It's equally useful if you find a great article on a a site that is littered with annoying ads or perhaps flashy gifs.
Install Print Plus Extension For Chrome