Mind On Track Automatically Creates Tasks From Mind Maps You Make
A good mind map is a good way to get started on any project, it serves as a great way for always staying on track but mind maps too go through changes as a project progresses and requirements change. What gets frustrating is when you've already started a project based on a mind map, specified tasks and have to go back, change the map and reallocate tasks. The problem arises mainly because mind mapping and tasking are jobs kept in isolation from each other. Mind On Track is a desktop application for Windows and Linux that combines both these jobs in to one. As you create a mind map, different ideas are automatically turned in to tasks that can be tagged and given due dates.
The desktop application follows a somewhat excel like flow, you can create workbooks and sheets within workbooks. A workbook is created when you add a new mind map and is saved with the central idea of the mind map. The application lets you create brainstorming charts, meetings, Organization charts, Reading Journals and personal management maps. A single project, i.e., a chart can have several worksheets in it. To rename a worksheet or delete it, click the worksheet tab in the bottom left of the application window. The chart name is displayed on top while sheet names at the bottom.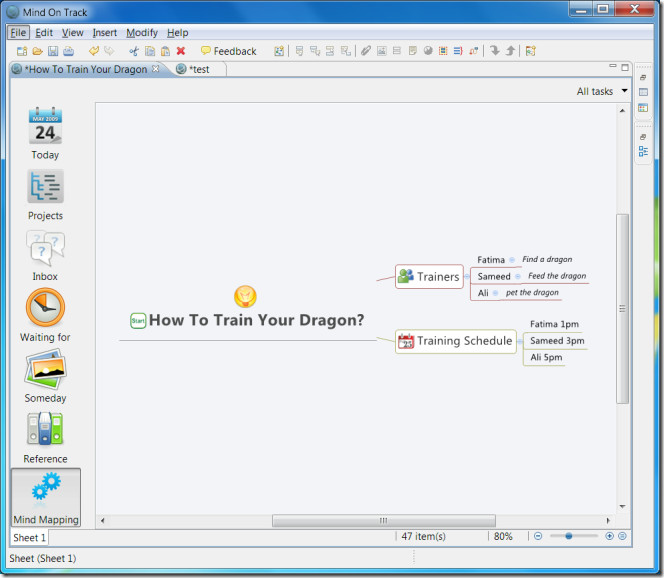 To get started, click New from the menu bar and choose what kind of map you want to create. Based on what kind of map you choose, you will be presented with a template for the map. You can edit any of the elements in the map template.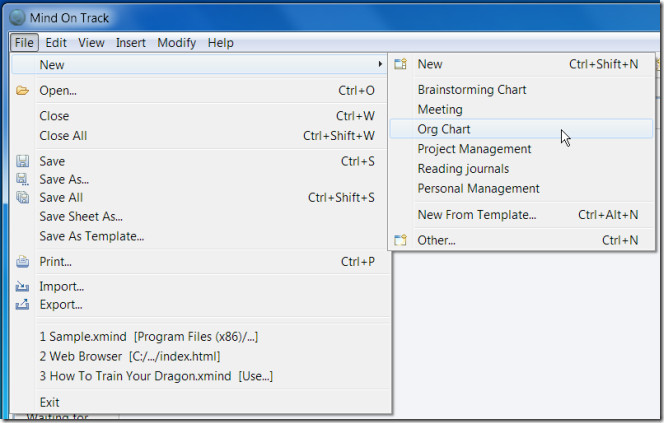 To start modifying your map, right-click the central element and from the Insert sub-menu, add a topic or a sub topic. Topics can be added before or after an element from the right-click menu. Images and attachments can be added, different topics can be linked together from Relationships.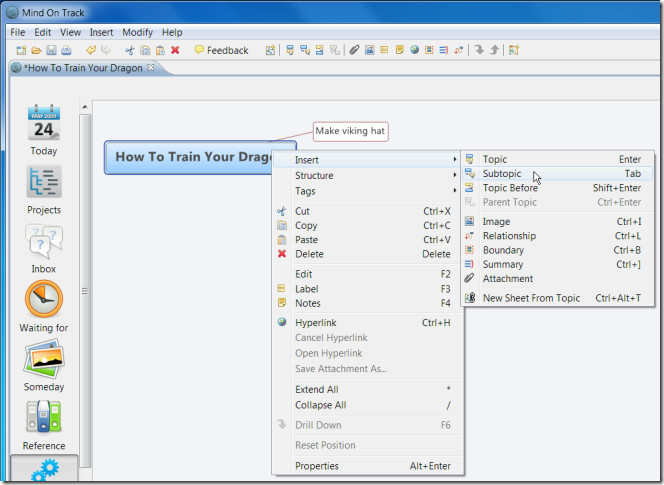 In addition to adding topics to your mind map, you can add tags that will help you identify the nature of the task. To add tags, go to View > Tags. From the side window, click the arrow next to Others and drag & drop an icon on a topic. Each topic you add automatically becomes a task, the mind map becomes a project.The icons you drag & drop on to a topic appear as text next to a task in the task view.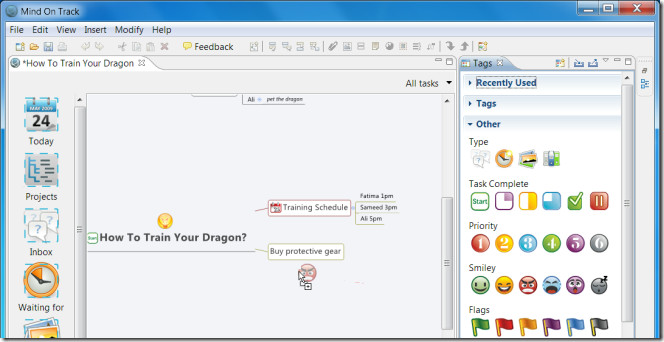 Although topics will automatically become tasks, you cannot add due dates to them in the mind mapping mode. To add a start and due date, go to the Today view (from the left hand panel) and double click the calendar icon next to a task. A side window called Properties will open. Use the Task dropdown to set a date for the task, use the Recurrence dropdown to the set the frequency of the task, i.e. how frequently it must be done.
All mind maps that you create are automatically added to the Waiting For, Someday and Reference view. These tags can't be removed from a project, however, you can add or remove them from single tasks/topics by selecting and deleting them in the mind mapping view. If you're either faint hearted or easily frustrated, then this might not be the best task management or mind mapping application for you for the simple reason that it's a bit difficult to figure out even if the concept in itself is very good.