VisualSubSync: Edit To Improve Subtitles & Get Real Time Video Preview
VisualSubSync is a subtitle editor that uses audio waveform representation with real time visual playback which allows performing accurate subtitle editing. It supports SRT and SSA/ASS subtitle formats and can also edit CSV, TXT and CUE files which can be later saved as subtitle files. Like many subtitle tools, it has an error and spell checker, as well as the utility to alter the time duration and text format of the subtitles. Other options include speed indicators, preview of real time changes from a source video and the option to set mouse actions. VisualSubSync functions in two modes; normal and the timing mode. Both modes have a different configuration of hotkeys. What distinguishes the timing mode from the normal mode is that you can change the behavior of the mouse for setting left/right mouse button to select the start/stop time of the video preview.
To get started, create a new project from File -> New Project. This will open a new window where you will require specifying the video and subtitle file. You can also extract the WAV file from the video individually (from Extract WAV/Peak file from video option) or check the WAV File option so that it is automatically extracted.
To edit a subtitle line click on it and start make amendments from the bottom pane. Once you have completed the editing or to check the progress of the edited content, click Play button. To get a real time video preview, click on the Show/Hide video button. The video playback buttons provide options to Play, Stop, Pause, Loop, Play End and move to the next/previous subtitle line. As you jump from subtitle to subtitle, the video automatically starts from the selected subtitle line.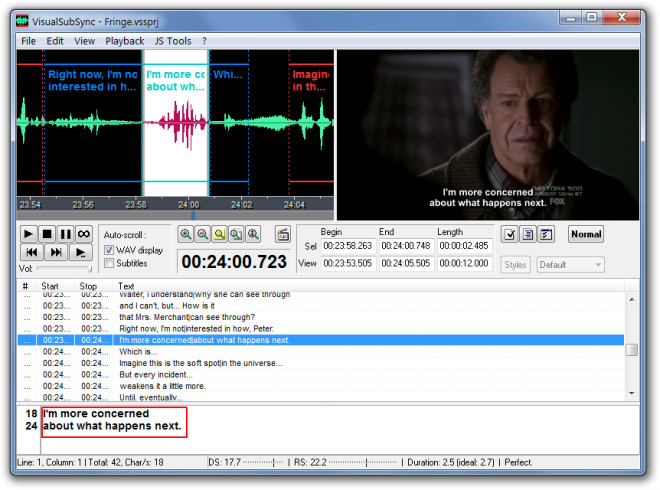 Advanced settings can be configured from Edit –> Preferences. The General tab allows associating subtitle files with VisualSubSync application, whereas the Subtitle tab can be used to set the default characters per second, and minimum/maximum subtitle duration. You can also check configure error checking parameters from the Error Checking tab, including overlapping and minimum blank subtitles, scene change issues, subs with too long or too short display time and subtitles with too many lines. You can set custom hotkeys and mouse actions from the Hotkeys and Mouse tabs. In case you wish to change the subtitle text  format, head over to the Fonts tab and select a font type, color, size and font style for the subtitle text.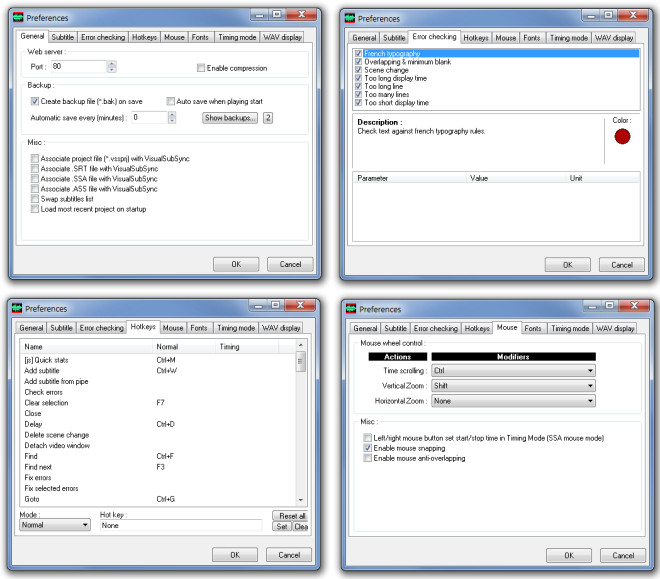 If you would like to view the video preview window separately, click View –> Detach Video Window. This can be useful for acquiring a separate view of the video while editing or previewing subtitles.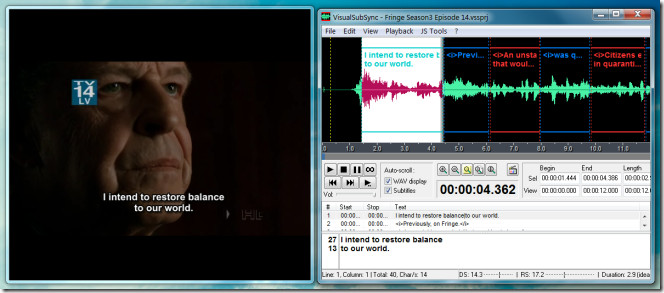 VisualSubSync works on Windows XP, Windows Vista and Windows 7.