Quick Links – One Button Access To Chrome Pages & Your Favorite Sites
Do you frequently enable and disable your bookmarks bar  (Ctrl+Shift+B) in Chrome? That is something that might signify you have a love-hate thing for the bookmarks bar. Chrome (like other browsers) allows you to save bookmarks to folders and keep only the very important ones on the bar itself but that's not to say the bookmarks bar doesn't seem unappealing and space hogging since you just use it to get to your links. Quick Links is a Chrome extension that allows you to access 11 of your most frequently visited sites from a single button. The extension opens a compact panel that you can use to access the sites and to access Chrome pages.
The options that appear on the pop-up are 100% customizable from the extension's options. To choose which Chrome pages and which websites will appear when you click the extension button, go to the extension's options and select the pages. All Chrome pages are listed and the ones that are highlighted in a darker grey are the ones that will appear on the pop-up. To select or unselect a page, just click it. You can choose from Bookmarks, Conflicts, Crashes, Downloads, Extensions, Flags, Plugins, Print, Sessions & Settings.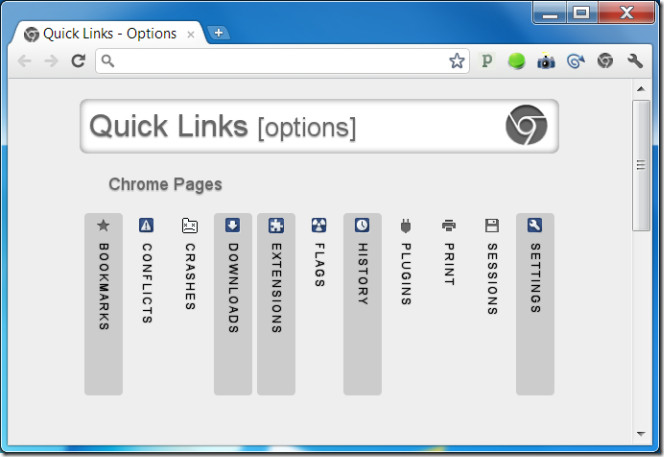 To edit websites, click the web address on any one of the listed sites or one of the empty ones. The address will turn green and a blinking text cursor will indicate that the field is now editable. Enter the URL for which ever site you want quick access to. Changes are saved automatically.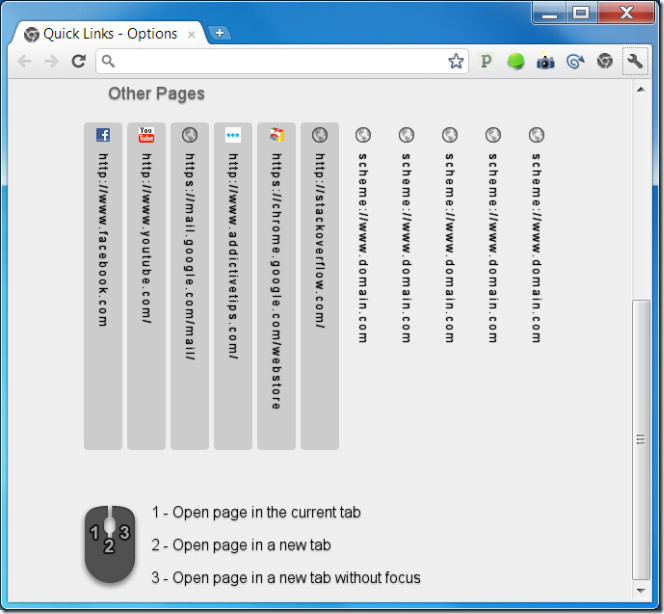 To use the extension, click the icon (a greyed out impression of the Chrome logo). All Chrome pages and websites that you enabled from the extension's options will appear in a neat pop up. You can open the page in either the current tab (left-click), in a new tab (use middle button) or in a new tab in the background (right-click).
If 11 bookmarks are what you've got riding on your bookmarks bar then this extension might give you access to them just as easily but without having to toggle your bookmarks bar for when you need and don't need to use it.
Install Quick Links Extension For Chrome
Update: This extension is no longer available in the Google Web Store, however, there is a similar app by the name of Browser QuickLinks that you can try.