Save & Restore Google Chrome Tabs & Location/Size Of Windows [Add-in]
Layout Manager is an extension for Chrome that allows you to save windows layout and set up of tabs, so that you can easily restore them later. It may come useful in situations where you're dealing with a lot of opened tabs and windows, and want to quickly save all the URLs to open them later without having to manually bookmark each web page. Unlike Session Manager (an extension for Google Chrome and Firefox to save sessions of your opened tabs and windows),  it remembers the setup of all opened tabs and Google Chrome windows, including the size and location of the window.  Once the windows setup has been saved, you can restore it with a single click.
Since it saves the URLs, as well as, location and size of windows, you can set up the windows just the way you want to reload them later. As mentioned earlier, you can change windows' size, position on the screen, and tab order before saving the set up in order to reload the windows with specified size, tab order, and location.  Once the extension is installed, you will find two options in the pop-up menu, namely Save Window Layout and Load Window Layout. Layout Manager works seamlessly, and saves all your windows and tabs, so even when you have closed a particular window, just click the Load Window Layout to open the window with all saved tabs.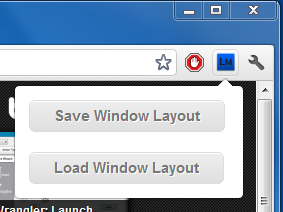 The extension is really good for moving from one work station to another or resuming work on the same system. If you leave all your tabs open just so you won't have to reload them when you come back, this extension will give you the freedom to close all tabs and save precious memory. Also, leaving tabs open and idle too long often ends up slowing the browser down so much you have to restart it sometimes or close some of the tabs at the least.
The one thing missing in the extension is the ability to remember more than a single layout. A single saved layout is useful but with the flexibility to save perhaps a couple more and name them would help boost the usefulness of the extension.
Layout Manager is unobtrusive, and doesn't have any settings to configure. It is recommended for users who work with multiple windows, and want to save them with all opened tabs for later use.
Install Layout Manager For Google Chrome