NoVirusThanks Uploader: Upload & Scan Files With Multiple Antiviruses
There's a saying that prevention is better than cure. That is the main principle that antivirus programs work on, but there are situations where just having an antivirus is not enough. With thousands of new viruses coming out each day, it is possible that a new viruses slips out of the database of the antivirus you are using. Viruses can effect the computer in a lot of ways – installing malicious software on the system, stealing personal information and exploiting security holes to let hackers in and out without any hindrance, thus making the data saved on our hard disks vulnerable to theft. With everything going digital, even extremely important things like our finances and financial details (online banking, shopping etc), one has to be really careful in keeping the system secure against people with malicious tendencies. NoVirusThanks Uploader is one such application that can be used in addition to your antivirus for helping you take care of your computer security by uploading files to an online scanning server. Keep reading to find out more about the application.
The main purpose of the software is enabling users to directly upload suspicious files from their computer to the multi-engine antivirus scanner of NoVirusThanks (like VirusTotal.com) and check the file against multiple antivirus databases at a time. For instance, if your local antivirus scanner found a suspicious file in your system, you can upload it to the scanner and it can check if it's a false positive or really a threat.
The interface of the application has 6 different uploading modes: Uploader (to upload the running process files or other local files for checking), Downloader (to download remote URLs and upload them to the online scanner), Registry Startups (to upload registry entries of applications in Windows startup), Search Old Files (to scan and upload files created 7, 15 or 30 days ago), Driver List (to upload drivers installed on your system for scrutiny) and Loaded DLL's (to view and check loaded DLL's in suspicious folders for viruses).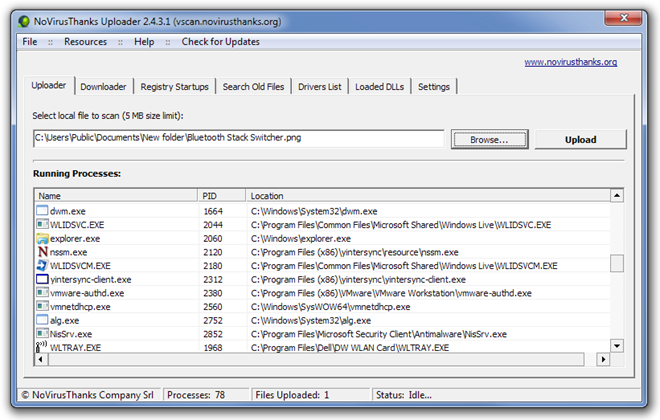 To upload a file, just right click it and choose the Upload To Virus Scanner option. The file will be automatically uploaded and scanned with the online scanner and a window will open in your browser displaying the results of the scan.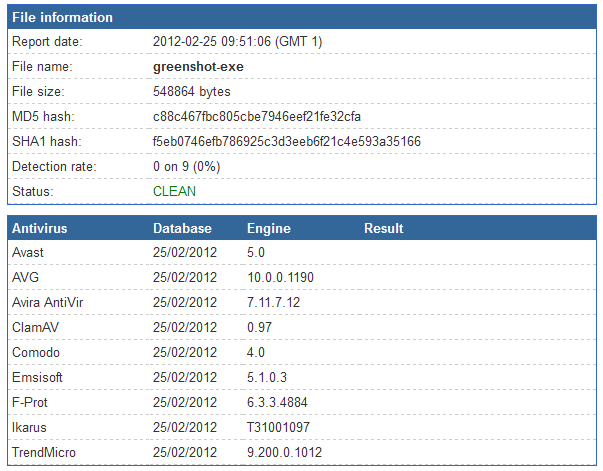 The Settings tab at the top lets you change default General, Language, Browser and Servers settings.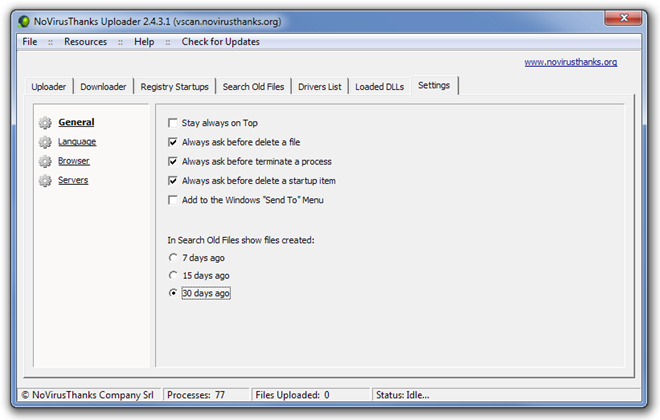 The application is available in both portable and installable forms and works on Windows XP, Windows Vista and Windows 7.
Download NoVirusThanks Uploader