Scrollbar Of Contents Generates Clickable Headings On The Scrollbar [Chrome]
Going through an entire article to find the information we're looking for isn't just a waste of time, it's downright boring. The quick solution would be to read the headings in an article but the best way would be to try a table of contents (if available). Wikipedia articles are one of the most structured articles you will find online but sadly not all content gives as comprehensive an overview as it does. Scrollbar Of Contents is a Google Chrome extension that can help you out. It works by generating clickable markers for all the headings on a website, and places them proportionately on the scroll bar. It especially comes in handy when navigating through long articles, or when you cannot find a specific heading at first glance. Furthermore, you can minimize, hide, or show the markers using keyboard shortcuts, such as minimize/maximize (Shift-Alt-M) and show/hide (Shift-Alt-N).
Once you've installed the extensions, a button will be added right next to the URL bar. After a page is loaded, click the button to hide or display the heading markers. Click the markers to scroll to the corresponding section. Furthermore, you can customize how this extension works by accessing its options.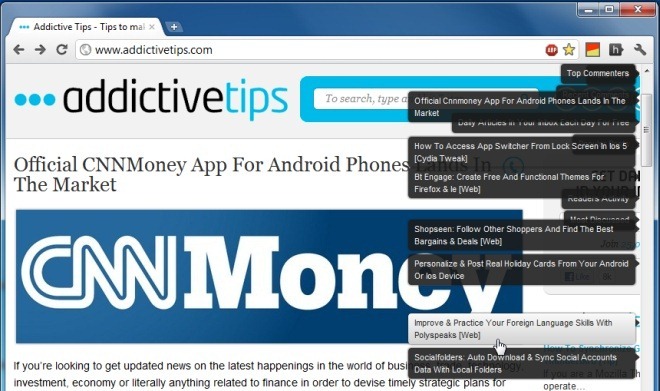 You can change the settings for scrollbar contents from Options. You may show markers, show minimized markers on scroll bar or hide markers when a page loads. In addition to that, you can also choose to show the entire heading text, show the first three words or show the first ten characters on each maximized marker. Change the levels of headings shown, Scrollbar of Contents recommends you to choose level three.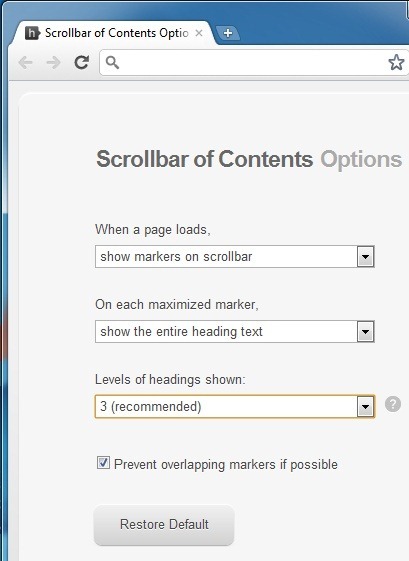 We've reviewed quite a few extensions that do the same thing but what makes this one stand out is that it supports both links and HTML headings in the contents it provides. The option to choose the level of headings that are to be displayed is possibly one of the best features of this extension. While it isn't exactly the table of contents you see in Wikipedia articles, it is a fairly good way to make reading and scrolling through long articles easy. In the event that the article you're reading isn't very long but the website is just littered crazy with adds after every paragraph, this extension should make scrolling through a page much easier.
Scrollbar of Contents gives users a more interactive browsing experience by adding indicators to the chrome scroll bar. Visit the link below and enjoy reading those lengthy articles in a more convenient fashion.
Install Scrollbar Of Contents For Google Chrome