Search Similar Images From Google Using Right-Click Menu In Firefox
Google recently added a new feature to its image search that allows you to narrow the search down by the size of the image and to look for images similar to one in search results. It also allows you to find images similar to those on your hard drive by uploading them to the Google image search bar r by entering the URL of an image. While the feature itself is excellent it has a slight constraint in that you will have to manually copy and paste the URL or upload the image in the search bar. Compared to searching selected text on Google via the right-click context menu, this is a very lengthy process. Google Image Search is a Firefox add-on that makes look-up for similar images easier by letting you right-click any image, and use the context menu option (added by the add-on) to have Google search similar pictures for you. Google will access information about where on the web the image had been used, and it will also filter out all other similar images.
To search an image, just right-click it and hit the Google this image option in the context menu. By default, the search results open in a new tab and the tab is brought to the foreground which is how the Search Google for option behaves. If you would prefer the tab to open but remain in the background, you can change the add-on's behavior from its options.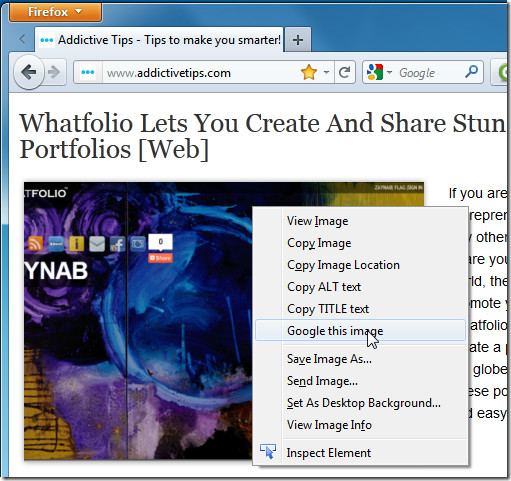 From the Google Image Search options, select Open Search results in background from the dropdown menu and the new tab that opens will not be selected automatically. In either cases, the new tab that opens will open at the end i.e., to the extreme right, of all currently open tabs.
The extension might not be a must-have for everyone but if you regularly look up images for design, inspiration or creating presentations, this could very well safe you a lot of time. Once you have the search results from Google, you can narrow it down by the usual parameters i.e. size, color or time range. Google Image Search displays results in split seconds, consisting of all websites where the image has been used, as well as all Visually Similar images.
Google Image Search is a handy add-on, particularly if you deal with image searches on Google quite often. It can be grabbed at the link provided below.
Install Google Image Search Add-on For Firefox