SendTab: Send Open Tabs To Other Browsers & iOS Devices [Chrome]
SendTab, a Chrome extension, allows you to send tabs to any device on the internet. With it, you can send tabs from one browser or computer to another with only a click or two. You can also quickly share important links with coworkers, or send tabs to your iPhone, iPod touch or iPad.  SendTab enables you to share links with other devices that are within the SendTab network. Once you've installed the extension, all you have to do is create a SendTab network from the service's homepage. After that, just install the extension on all your computers and browsers, and start sharing tabs between multiple browsers and devices.
Once you've installed the extension, click the button in the toolbar to send tabs to different browsers, devices and computers. Select your desired browser or device from the list, and send tabs instantly. You can also send tabs to all devices at once, and access all your sent links by clicking the History option.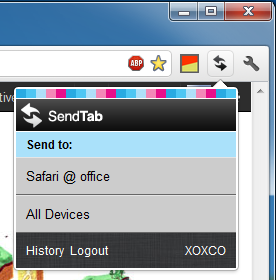 SendTab extension can also be installed for Safari, but unfortunately it did not work for me on account of some bugs. You can simply install the bookmarklet as an alternative, and start sending tabs from Safari, Firefox or any browser.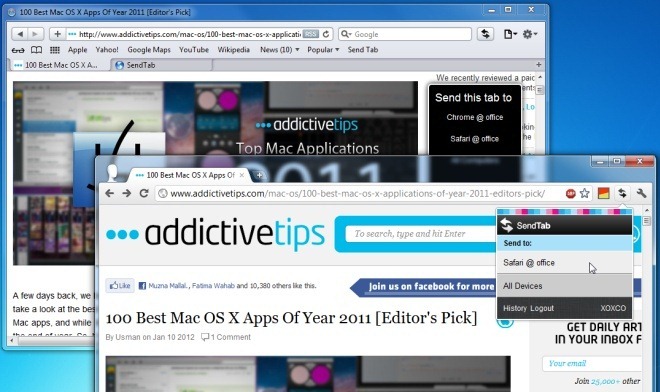 Click the History option in the pop-up to go to your network's homepage, where you'll get a complete, searchable history of every tab sent. It also allows you to delete browsers or devices from the network.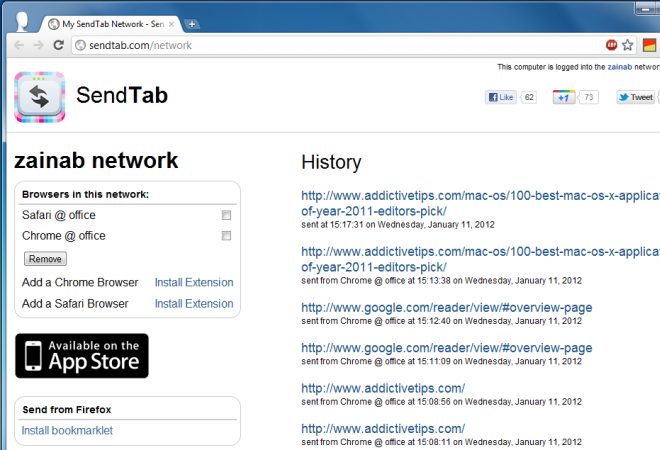 SendTab is a simple utility that works on Safari and Chrome, and if you're using Firefox or any another browser, there's a bookmarklet available instead. The browser extensions are free to use, but the iOS app is paid ($0.99). Visit the link below to install the extension, and let us know what you think.
Install Send Tab For Google Chrome