Share Entire Folders With Folders.io P2P File Sharing Service
Want to quickly share multiple files and folders with your friends without signing up, or having to first upload a file and wait for them to download it? Folder.io, a useful service that allows P2P sharing of thousands of files, no matter what the size is, can come in handy. Simply drop your files onto this web app's interface, which then acts as a server for your audience to download through a peer-to-peer connection. In addition to offering the common file sharing options, i.e., email, download link, Facebook and Twitter, the app also gives you a QR code that you can be scanned to download the files to any capable device. More after the break.
With the free service, the transfer quota is 500MB, which increases to 1GB after you sign up. You can also increase your transfer quota by upgrading to the premium service. Files can be uploaded through simple drag & drop, or using the add file button. Once you've added files to Folders.io, a link is  generated, through which all your files can be accessed. You can either email this link to the intended recipient, or share it on Facebook or Twitter, along with the additional option of using the QR code. Click clear to delete the uploaded items from your list.
The app also allows you to transfer folders as a whole instead of having to select individual files. A selected folder will transfer all files contained within.
When you share a link with anyone, either via email or IM, they can both view and download the files. To view a file (selected formats supported only), click on the magnifying glass button in front of each list item. The web app has a native file viewer, which supports a few common formats for viewing files.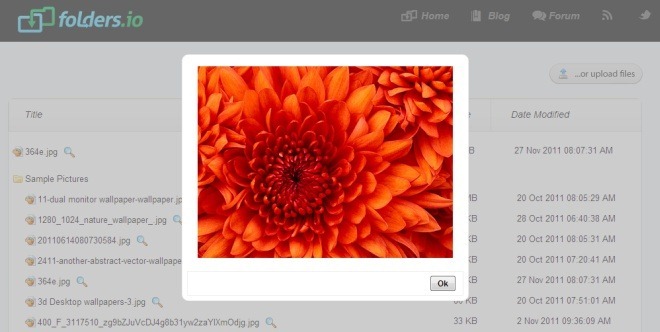 Folders.io has an easy-to-use interface, and it saves you both time and effort when you quickly want to transfer a file. There's also a Chrome app available for this web app in the Chrome Web Store, but it is a simple link to the website itself, and nothing more.