Site To Phone – Send Web Pages From Your Browser To Any Phone
There are a lot of ways of sending bookmarks from your computer to your phone; but they usually offer support for select devices or just a few browsers. They can also charge you for adding additional devices and may or may not support your device. Site To Phone is a free web service that lets you send web pages viewed on your browser to your phone over the internet, it supports five different browsers (Chrome, Firefox, Opera, IE and Safari) and five mobile platforms (iOS, WebOS, Android, Windows Phone  and Blackberry).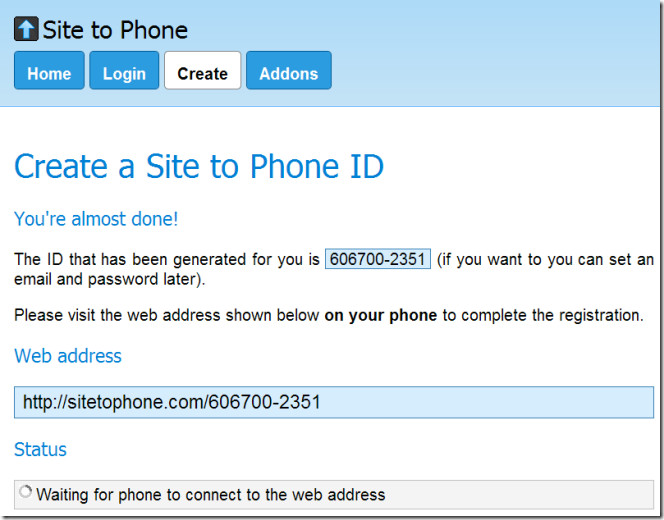 You don't need to sign up to use the service, it provides a unique ID when you first sync with your phone and a shortcut to the service with your ID is saved in your device. Signing up is a good idea though because you can use it to login to the service instead of using the 10 digit ID.
To connect a mobile device for the first time, visit the site and wait for it to generate the web address. Access the address from your mobile device, follow the instructions and press 'Complete Setup' on your device. The service will automatically detect when the device has completed set up (on your desktop) and take you to your home page.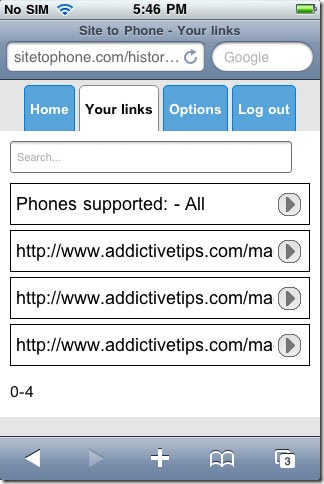 To send a web page to your phone, use either the service Bookmarklet or if you're using Chrome, use the Site to Phone extension. The extension adds an option to the right-click context menu so that you can right click on selected text, or an image or click the extension button (to send web page) to your phone. If you're using the bookmarklet with any other browser, you won't be able to send text or images, you can only send pages.
An email and password will make it easier to add more phones; you can sign in to the site on any device and access all pages that have been sent from a browser to a phone. The account will also make it easier to view history of links you've sent to your device. To keep different phones and different browsers always use the same ID (or Login) to sign in to the service or to add a new device.
Install Site to Phone For Chrome