SocialGmail Displays Avatars With Emails In Gmail [Chrome]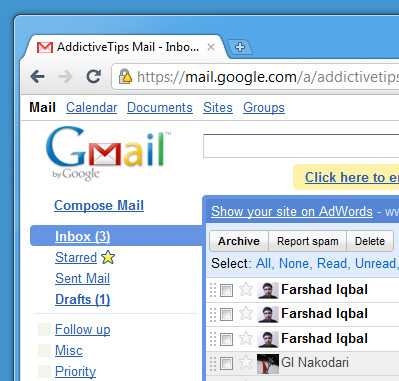 SocialGmail is a Google Chrome extension that displays the profile image (from Google or Gravatar) next to the emails in your Gmail account. Other than being an interesting way of sorting emails, this makes it easy to instantly recognize the sender of the email.
This recognition method is quite similar to the look we get with an inbox within a social networking websites account (such as Facebook).  Unfortunately this extension does not provide any mainstream functionality and is merely useful for its visually appealing outlook that it grants to an otherwise dull Gmail inbox. However, in case you are interested in advanced customization options for changing the look of your Gmail account, you can check out Gmail Minimalist (Chrome extension) which we reviewed some time back. Its worth mentioning here that combining these two extensions can indeed revolutionize the look and feel of your Gmail account.
Download SocialGmail Extension for Chrome