Strict Pomodoro Blocks Distracting Websites & Makes You Work [Chrome]
The more undisciplined a mind you have; the harder it is for you to work. For many it is simply a matter of seeing goals as long term and something they can put off which is why the Pomodoro technique helps them immensely by giving them a ticking clock to race against as they try and get a job done. For others who determinedly waste time, there is Strict Pomodoro, a Chrome extension that not only adds a timer to your browser but also effectively blocks sites that might distract you.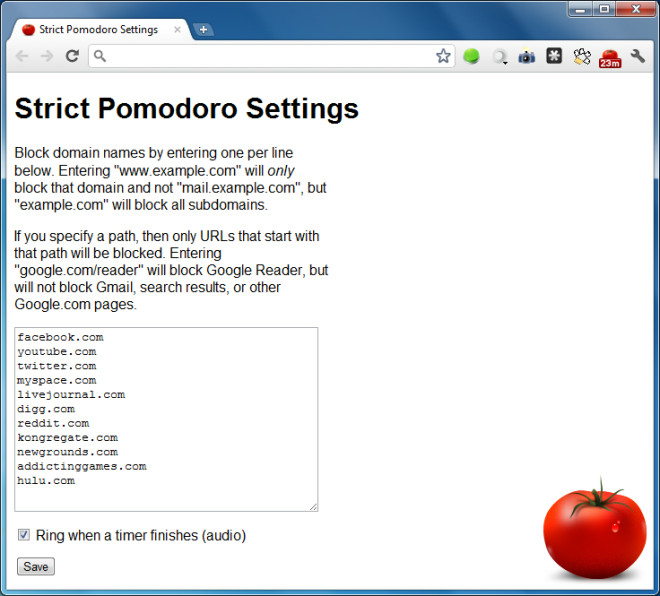 The extension adds a tomato icon next to the URL bar, clicking the icon starts a 25 minutes timer. The extension blocks you from opening time wasting sites like Facebook, YouTube, Twitter and more. The list of sites that you can permit or block is 100% customizable from the extension's options. Once a pomodoro is started, all restricted sites are blocked regardless if they were opened before or after starting the timer.

When the time period runs out, a desktop notification informs you that it's time for a break. Pomodoro intervals are not customizable. The extension has the option to enable an alarm when time is over. When your 25mins are up, click the icon and it will allow you 5mins of leisure on any one of  the blocked sites.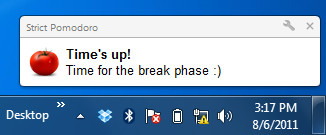 Install Strict Pomodoro Extension For Chrome