Download FlyHigh Custom ROM On HTC Flyer [Speed And Smoothness]
In case you have gained S-OFF on your HTC Flyer and permanently rooted it afterwards, then you must be looking for a custom ROM that optimizes your experience. There are a couple of custom ROMs available for HTC Flyer, but recently released FlyHigh ROM is the one to go for. The ROM comes from XDA recognized developer nickiberli who promises extra speed on your Flyer along with custom GSM / Wi-Fi scripts and percentage battery mod. Apparently FlyHigh is compatible with Wi-Fi and GSM versions of Flyer, and it also recognizes the genre of your tab upon installation.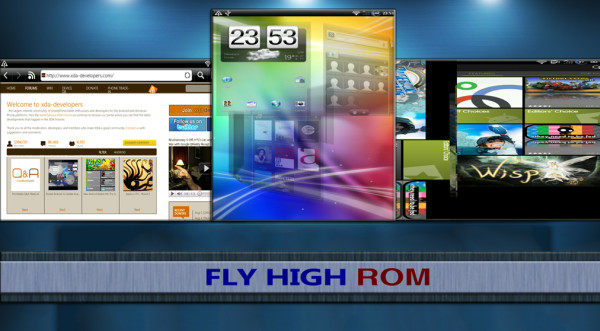 Here are some important features of FlyHigh Custom ROM for HTC Flyer:
Based on HTC WWE 2.00405.3 official firmware.
Rooted, Deodexed and Zip Aligned
Bigger VM Heap Sizes
Butter Smooth UI
Longer Wi-Fi Scan Interval
Bluetooth Headset Profile [Pretty useful for making calls on GSM HTC Flyer].
New Market
Ad-Free Scripts Pre Integrated
No Boot Sound
ES File Explorer etc.
Bloatware like Amazon MP3, Soundhound, HTC Feedback, Google Feedback and KidMode have been removed to optimize user experience after flashing the ROM.
The drill to install this ROM on your HTC Flyer is pretty simple if you have some grip over flashing through custom recovery. If not, then you can head to the post here to learn how to gain S –OFF, perma root your device and then install custom Recovery.
Here are the instructions direct from developer of this ROM to install on your S –OFF'd, rooted and custom Recovery flashed HTC Flyer:
Download FlyHigh ROM and place the zip on your SD card
Boot the device in recovery by holding vol-down + power
Optional: Go to backups and restore and perform a backup
Choose the option "wipe data/factory reset" and confirm
Then choose the option "install zip from sdcard", then "choose zip from sdcard" and select the FlyHigh ROM zip file and confirm
After flashing, reboot your device
In case you are stuck or need more information regarding FlyHigh ROM for HTC Flyer, then head to the official ROM thread posted here.
Reference Link:
Download FlyHigh ROM For HTC Flyer [Version 1.2] (Updated)