The Basic Guide For Optimizing Your Torrent Downloads
Many people find the concept of seeders, leechers and peers to be quite confusing. When using a torrent client such as uTorrent, Azureus, Bittorrent, etc, it can be quite difficult to estimate the specific bandwidth settings to speed up the download. In this post we will elaborate the concept of seeders, peers and lechers in reference to torrent downloads and provide details as to how you can optimize your torrent client for a better download speed.
Seeders
In order to get a reasonable download speeds from your torrent client it is necessary that you have a minimum of 1Mb Broadband / DSL connection. It is always necessary to see the number of seeders present in a torrent file before you download it. A seeder is a person with the complete file who is also allowing other users to obtain file parts from a peer to peer connection. In other words, a seeder is a person who is uploading the torrent file after completely downloading it. As normally there are no websites that save torrent files for downloaders, therefore, without a seeder you will never be able to obtain the whole file. That is why you should never download a file that has zero seeders. Without seeders there can actually be no torrent downloads.
Leechers
A leecher is a person who is either downloading the file or does not seed the torrent after downloading. The latter is also known as a "Hit and Run' and is called a leecher in a derogatory way. Unfortunately, the same term is also used for people downloading the file.
Peers
A peer is a connection made when two programs are sending data to each other over a network. In the case of a torrent client, different systems with parts of the file send data to each other across the internet via the torrent client. Having the right amount of peer settings can significantly increase your download speed.
Download Optimization
The best way to optimize your torrent client is to keep the following things in mind:
1. Your Internet Connection Speed
2. The Seeders and Leechers for a torrent.
3. Your systems capability (as some systems cannot handle too many connections).
Bandwidth
To optimize speed for your download go to Tools > Preferences in your torrent client (we choose uTorrent) and click on the Bandwidth option. Many people might think that keeping the download and upload tabs to 0 (for unlimited) is a good option but that is actually not the case. I would not recommend an upload speed of more than 200KBs unless you are seeding a Torrent file to boost your upload ratio. As some websites such as xtremespeeds blocks your account if you don't upload 80% of your downloaded Torrents. Keeping the download rate to zero is only good when you are not bothered about your browsing speed, otherwise you may keeping it to 75% of your bandwidth e.g. 1500 KBs for a 2MB connection. To enhance speed, you should also right-click on your torrent file name and select "High Priority" in the Bandwidth Allocation option.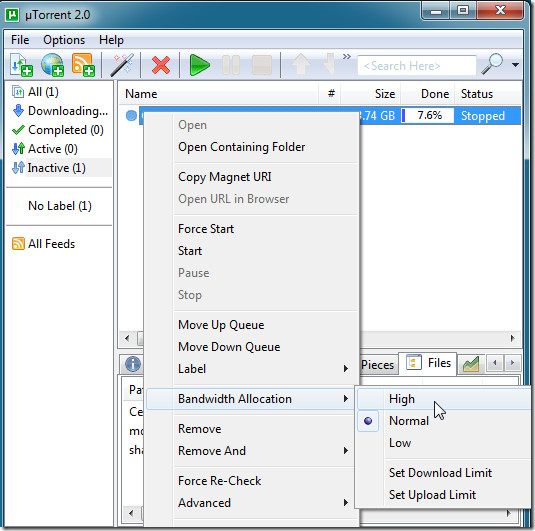 Connection, Peer Settings And System Capability
You can give a higher level of connections to your torrent client in case you have a good system. For example, you may set  250 or 500 global connections if you have a Core2Duo or higher CPU. It might not be very useful to give too many connections to single core systems which might not be able to utilize them. If you have a torrent file which has 1000 seeders and 3000 lechers than it might be better to add set a higher number of global connections. On the contrary it might not be very useful for setting too many connections for files that have e.g. 3 seeders and 6 lechers. It is normally useful to have 4 slots per torrent, however, to accelerate uploading data for a better ratio you may increase the slots according to your bandwidth and system capacity.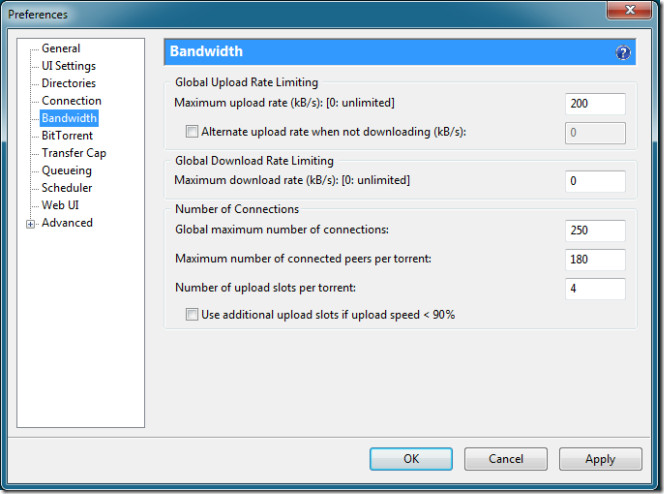 To make it short I would suggest that the upload rate should not be more than 200 KBs, moreover, try reducing the upload rate if your download rate is slow. Try keeping the download ratio to 0 (for unlimited), set more connections and peers for files with many seeders and leechers (and vice versa), this will allow you to grab more parts of the file from lots of peers. And last but not least, avoid downloading files with less seeders as the more the seeders the better the download speed.