Top 50 Music Search Engines – Start Listening Now !
Music Technology is growing too fast keeping in mind the modern trend, complied below are the list of top 50 music search engines. If you think some of the sites are missing from the list, let me know in the comments and I will gradually add them too. Enjoy!
Note: The following services have been discontinued; iJigg, SongBeat, PluggedIn, Radio.Blog.Club, Muvibee, SoundPedia, Qloud, PureVolume, Fairtilizer, Stage.fm, Seekmp3, OurStage, SweeTunes and Guruji.
Spotify
Spotify is one of the best websites right now to search and listen to music. It has a library containing millions of songs and you can create an account to have your own personalized library of songs. Morever, you can see what your friends are listening to and share songs with them on Facebook.  It also has a desktop app which is available for both Windows, and Mac OS X operating systems.

MP3Realm
MP3Realm is another dedicated mp3 search engine, but in addition to the other search engines it allows you to create your personal account to store playlists and search results. You can directly add the song to your playlist from the search results and access the playlists from anywhere. In addition to MP3 files you can also use it to search for lyrics and perform advanced searches.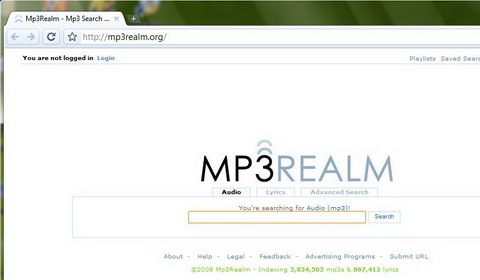 SkreemR
SkreemR is one of the best dedicated MP3 search engine that will allow you to find and play mp3 files. Their search results allow you to directly play the mp3 from within the results itself, providing you with album info and ratings for the song.It displays results from various sites which host MP3 files. If you are looking to find your favorite song this is one search engine which will definitely help you find it. SkreemR also comes with it own Firefox Plugin making it easier for you find MP3 files without visiting the site. Download the plugin from here.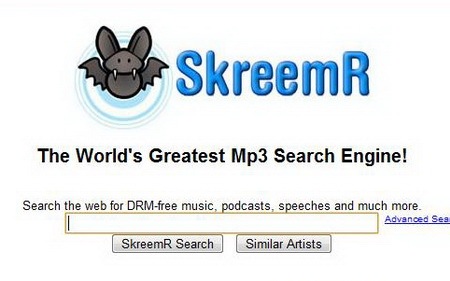 Hushie
Hushie is another search engine dedicated to find MP3 files, just key in the artist, album or song you are looking for and search. The search results for hushie are displayed in detailed format making it more simplistic than the other MP3 search engines.
Songza
Songza provides you with a music search engine and internet jukebox. Search for any song or band and listen to the song on the jukebox. It can display multiple links to the song or band that you searched. Click on the link and you'll be able to listen to the song instantly. You can also broaden your search by searching for the artist/band name or narrow your results by searching for a specific song.
PodNova
Ever miss your favorite podcast or videoblog and because it involves too much searching and page flipping? With PodNova, all of your podcasts and videoblogs that you subscribe to will be fed to the same feed for your easy access.It is absolutely free to subscribe to and has some very interesting features such as allowing you to share your podcast libraries with your friends. The site is easy to access and navigate through.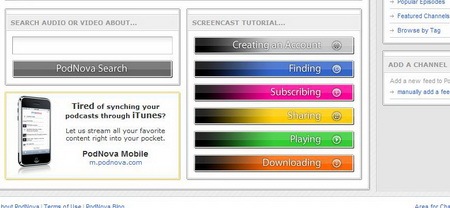 Deezer
France based Deezer is the first music search engine that is undeniably legal. Deezer was pressured by the French government to alter their service, which they thought was skirting copyright laws. Since then, Deezer has ironed out their differences with the government by agreeing to share revenue with artists and producers. Thus, Deezer is legit with the added advantage of being able to choose which songs you want listen to, as opposed to the radio style service.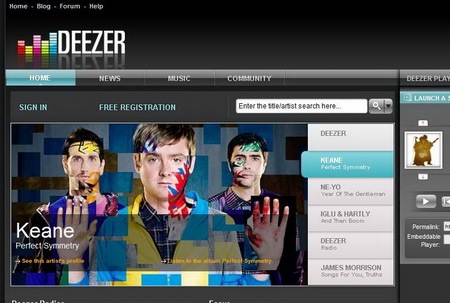 Soundcloud
Soundcloud was started as a website for distribution of audio tracks made by amateurs. However, now it has expanded to such as level that both amateurs, as well as professional artists release their work on the website. By creating an account, you can create favorite lists for tracks, follow specific people, and even share your own recordings with your friends, as well as the whole community.
Imeem
Imeem is a social media network where users can create, recommend and discover music, film/video, art, and pop culture media and connect with other users who have similar tastes. After originally pushing an instant-messaging centric model, Imeem decided to start offering custom music playlists, video channels, photo slideshows and blogs, which could all be easily shared through the web.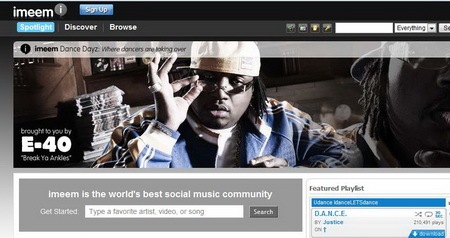 Last.fm
Last.fm is a social media network and recommending engine. When you recommend some music to a friend, or you tag it, or you write about it – even just listening to it – you shift the song's importance on the site. It'll be recommended to different people, because you've listened to it. It'll move up our music charts and maybe more people will hear it because you thought it was good. It is a perfect place to listen to music, it includes almost all artist from around the world.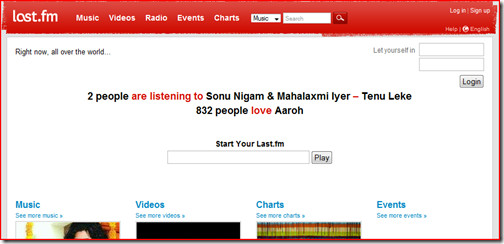 The Hype Machine
The Hype Machine is a music blog search engine, which means it follows music blog discussions, and all songs end up with them. Just enter your favorite artist or song name, and start listening instantly.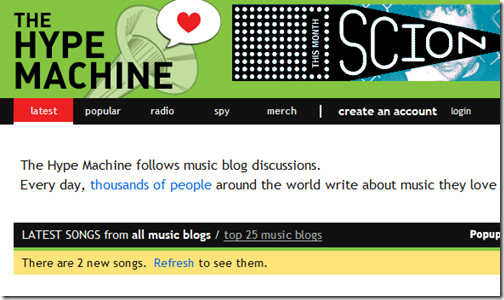 Grooveshark – Your Music Is Waiting
GrooveShark is a legal search engine(using p2p technology) which has a unique system where everybody gets paid, actually this service pays you to share your music online. All music files are DRM-free and with p2p system on bard you can search virtually any music file you want. This sharing concept is a great way to intrigue illegal networks.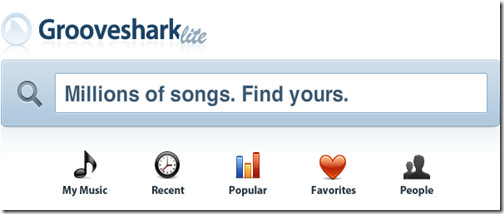 Project Playlist
The new version of Project Playlist is simply awesome. It is a search engine just like Google and Yahoo, but is dedicated to music only. Just enter a song name, and build a playlist instantly. The interface is pretty clean, and very easy to use. At the time of this writing 38.7 million playlists have been created by music fans. Sharing Playlist is now more easier than you can imagine.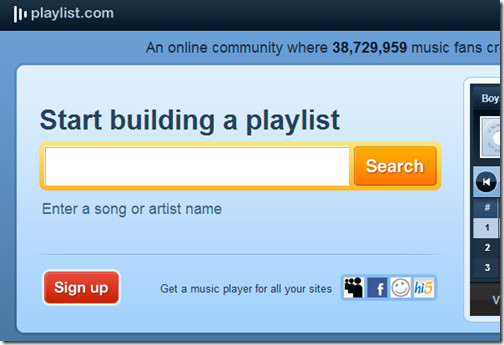 iLike – Great Minds Thing iLike
iLike is a social media network where users can create, recommend and discover music and connect with other users who have similar tastes. According to them, Over 30 million people use it to share music tastes and playlists, and to learn about new artists and concerts together.
Pandora
Pandora is a great place to find your favorite artist or song, listen to radio stations, share your music, and find other listeners. Pandora has only mission, to play music that you will love and nothing else. Sadly it is restricted to US only, but you can still access it by using this tip if you live outside US.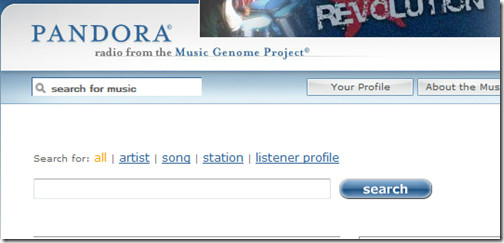 MySpace Music
MySpace Music has one of the largest collection of music on the web and has a very large fan base, more than 20 billion song streams are initiated per month. Almost all major music labels are working with Myspace Music, making it a perfect choice for everyone. Type your favorite song name and start making a playlist instantly, you can also find music videos, featured playlists and top artists.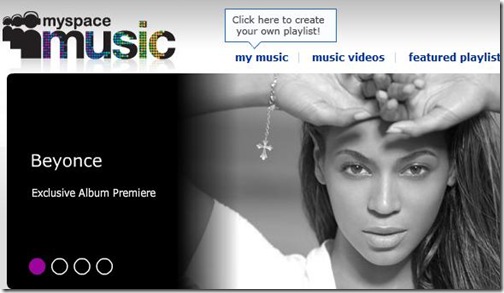 We7
We7 is another great choice of music lovers. They have music from more than 250 indie labels as well as the majors. It is an easy and free way to search, share and discover new music. All music are played on their awesome and easy to use build-in music player.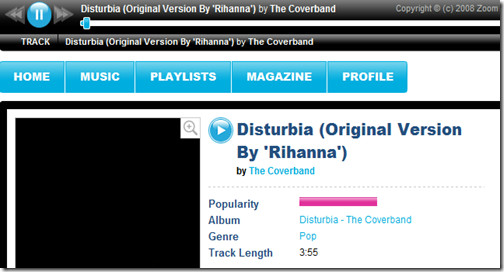 SSMunch
SSMunch is a free music search engine that lets you search and play Mp3s quickly. It gives you quick options to find Lyrics and Music Videos easily. You can register for free to become a member and download music that you love. It is a complete music search engine that actually works great.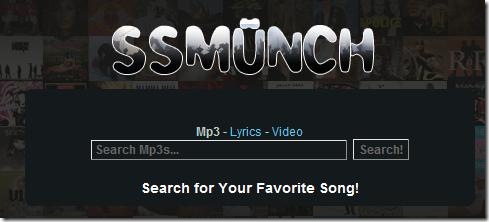 Google Music
Google Music is a relatively new service from Google which allows users to listen to both free and paid tracks. You can store up to 20,000 different songs and listen to them using any Android device, or a web browser. It is integrated with Google+ allowing you to share tracks with your friends and circles. Right now, Google Music service is only available in the US.
StumbleAudio
StumbleAudio is a social music discovery site with a mission is to help you find music by new and exciting artists that you would like, rather than play or sell you the hits by known artists that you are "expected" to love. They have over 2,000,000 tracks by over 120,000 artists ready to be played in full length, high quality, free of charge.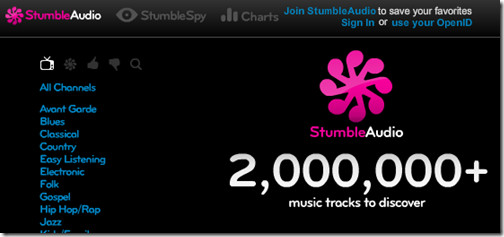 Mufin – Your Music Discovery Engine
Mufin is place where you can discover new music from 4,825,941 tracks and growing. It is a music recommendation engine that actually works very well. Enter a song name that you are looking for and click Preview Similar Tracks, Mufin will then recommend you another song whose taste will be similar to the song you searched for.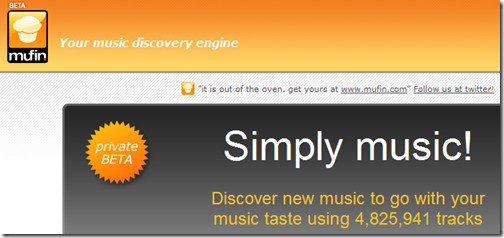 Cherrypeel – The Democratic Music Revolution
Cherypeel is an online music service which is run by a unique voting system that help bring artist and listeners together, for example, every band starts out at the lowest bottom of the charts and if the community likes the songs of the band, they vote up the band. This is especially great for artist who are lesser known and not media hyped. This is a free search engines and artists retain al the music rights.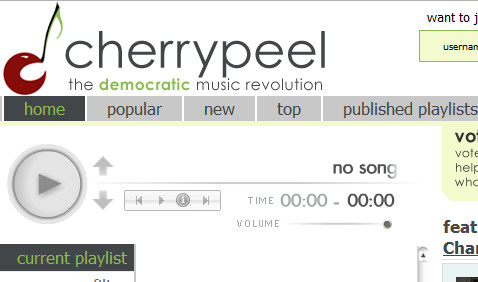 iJigg
iJigg is the one place you can search for rare music worldwide, it is simply designed, user friendly social music site that is a fantastic way for artists to get there music heard, this search engines helps discovering new music. Its easy to navigate where you can search your favorite artists or look under most popular or recently posted music easily.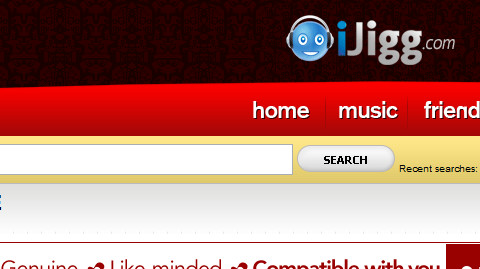 SongBeat – The Music Is Mine
SongBeat is a music application which allows users to search through the music you like and download it, just type in the name of the artist or title of the song and sift through the search result to find the song you are actually looking for, you can make your playlist and even download music to your computer.
MixTurtle – The Music Search Engine
MixTurtle is for those who want to create and search for playlist within seconds. When you search for an artist you like to hear, a list is displayed listing of the artists available which you have search so far, clicking on the a track will immediately start playing the track, if you registered member than you can add you desired playlists for easy playback, if you love creating and sharing playlists with your friends, this would be the right place for you to go.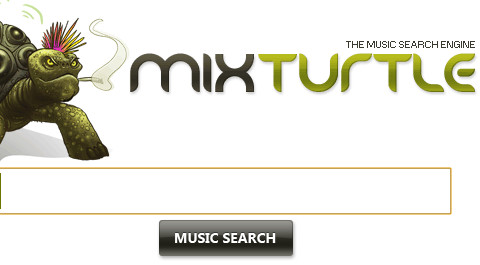 PluggedIn
PluggedIn is a unique search tool for music fans that lets you find and watch music videos, discover new artists, create multiple playlists and also publicize them. You can also scroll down to access biographies and the Wikipedia entries of the bands you like as well as musical influences and even ringtones.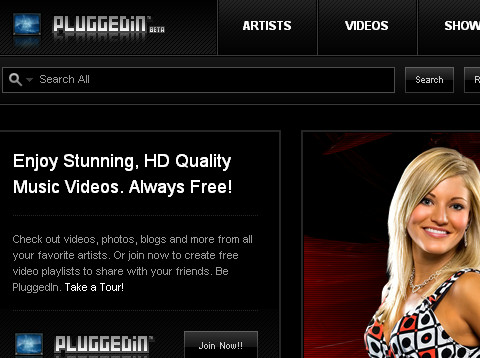 MuviBee
MuviBee lets you search through music videos, basically it is a search engine which lets you choose whether to search by an artist or a song title and you can find the track in the search result. You can make your own music video list, you can also look through people's music video list which sometimes help finding the right track.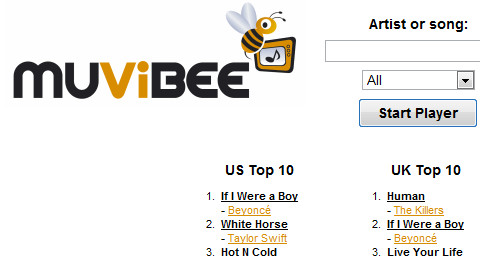 Radio.Blog.Club
Radio.Blog.Club is one of the original music sharing website, it was up even before the days of last.fm, Pandora and so on, this site allows you to put up a player in your own blog and to share tracks without restriction or even registration, the service has also a Wii channel and you can share any playlist and customize it the way you want.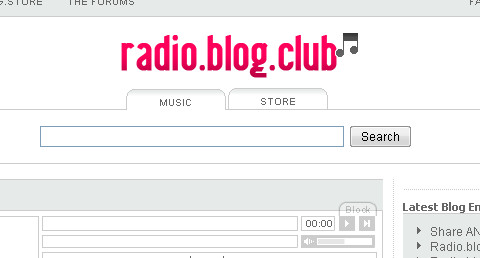 Zukool – Adaptive Search : Personalized Recommendation
Zukool is a music search engine as well as a recommendation site, which recommends track for you, which in turn helps you find undiscovered music. All you have to do is to search for the music you like, add it to the list and fill out the recommendation box, once you are done adding songs to your playlist, you can click on the recommendation icon, that's all.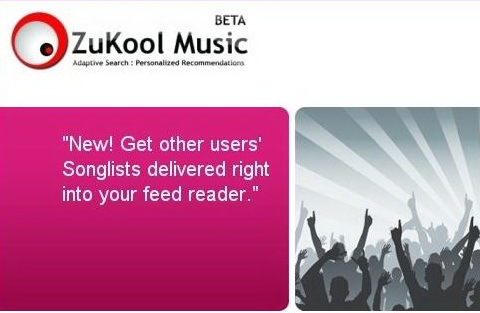 SoundPedia
SoundPedia allow users to search, discover, share, and stream music and it works as a music sharing community. Users can search for their favorite tracks via keywords, artist, song title and can also check out what other users are listening to.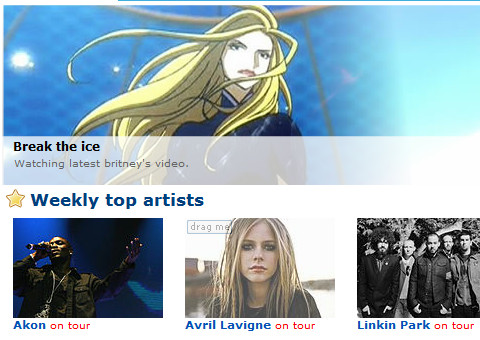 Jiwa – Free The Music
Jiwa is a music site that allow its users to search and upload songs. Users can search for their favorite tracks and make custom playlists out of them, these playlists can be accessed from anywhere and can also be shared with friends. You can see what other users are listening to and can interact with the community through the Shoutbox.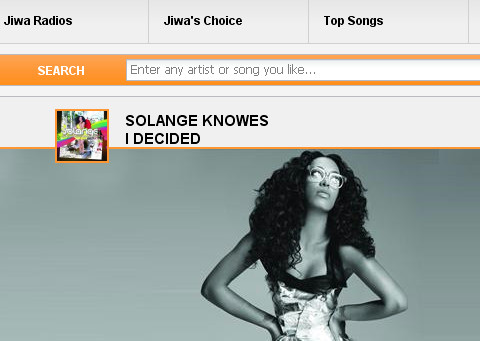 Qloud
Qloud has a unique approach of sharing music to the masses, it is available only via social networks and streams the best of iTunes. Users are allowed to play the tracks of their friend's iTunes, this service is available on Facebook, Friendster, Bebo and Hi5. The site is completely free and legal and social networks seem to going by the hand. This service is like getting to know new people around the social network by the type of music they listen to.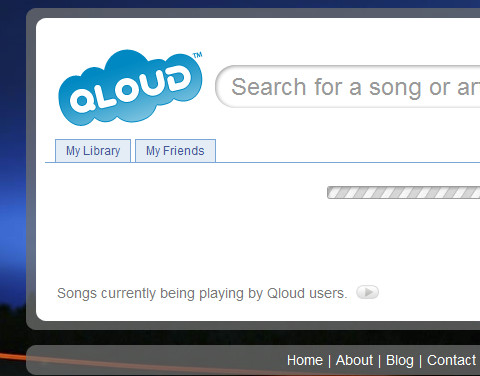 FineTune
With Finetune you can search for your favorite artist as well as create related tags for music files that share the same genre or "influences". All you have to do is to type the name of the artist and this site will create a playlist for you. Either you hand pick the songs or let this site's recommendation technology make the playlist for you.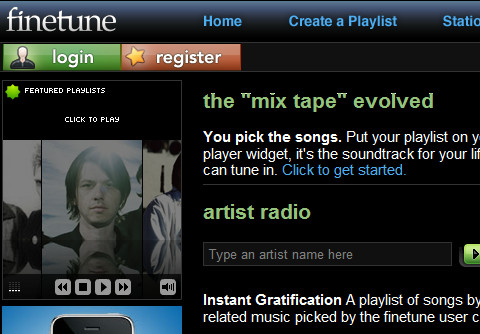 Jango – Internet radio that plays what you want!
Jango is a newcomer in music scenario that is simple and straight forward, it will give you the search results as well as similar songs to listen, which you can add to your personal station. You can also see who is tuning into the station and in turn can recommend more music for you to listen.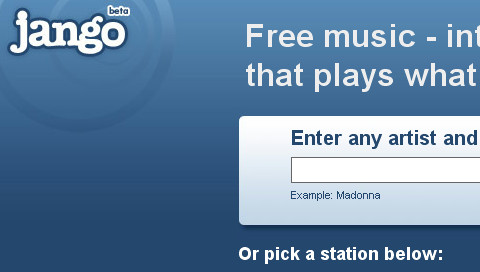 Mog – Because The Web Mostly Sucks
MOG is a social networking site and a music search engine who's sole purpose is to strike an instant cord with music lovers, users who are always glued to listening music can explore, share and talk about music they enjoy. You can setup your personal profile page as per your music likings and thereby providing a place to discover music online.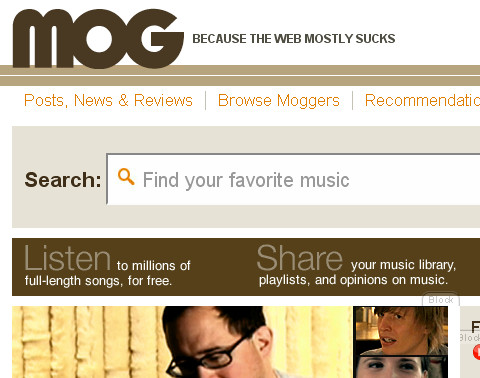 Jamendo – Open Your Ears
Jamendo is a music site and search engine that is solely for newer artists. If you are a new artist and want to have some public recognition this might be the right place for you. Every piece of music is published and promoted under the Creative Common license, and if you do well there, you might get paid too! The music is distributed with Bit torrent and eMule, the users who listen to newer bands and artists can download the music, discuss about it and even write short reviews.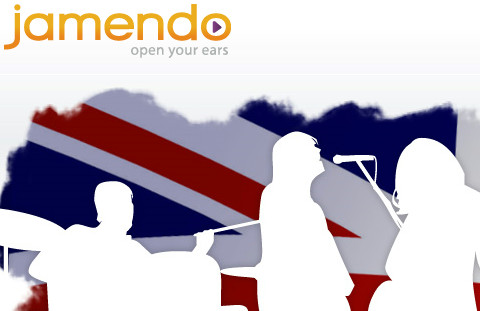 PureVolume – We Are Listening To You
PureVolume is a music information oriented site and a search engine that provides services to artists and record labels. Any artist can upload songs in mp3 format only and listeners can download the songs, see featured albums and shows. You can also discuss topics such as jazz, rock, pop etc.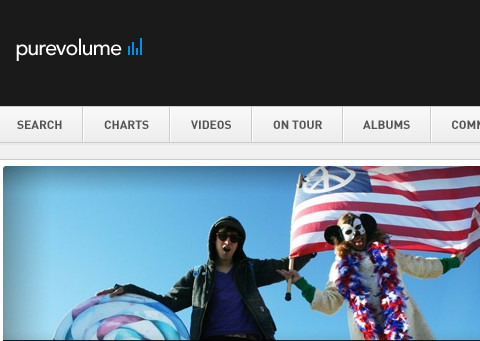 Fairtilizer – The Do It Yourself Music Club
Fairtilizer is yet another newly launched music community and search engine that help discover and share new music, new artist can upload their music and set up their profiles. You can also find songs by genre, album artist or even location.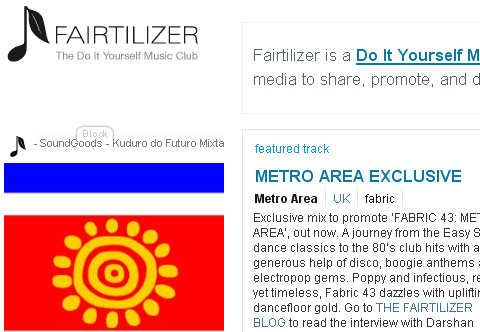 STAGE.FM
Stage.fm is yet another music community and search engine that gives users a place to offer a free legal approach of sharing music, bands can promote and sell their music and can offer some free songs to be listed too.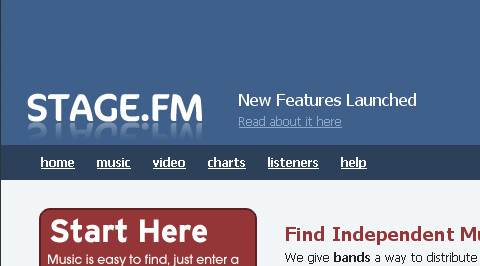 Audiobaba
Audiobaba is a free next generation music search engine that allows you to find songs by acoustic similarity. Simply enter the song or artist name and you will find them instantly. It lets you search between mainstream, normal, or independent artists with a single click.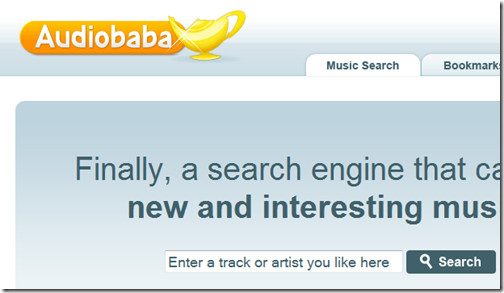 Beemp3
BeeMp3 is a dedicated MP3 search engine to search for songs. You can use BeeMP3 to search for artists, songs or albums. In addition to that they also have a listing of World Top 10, US Top 10 and Euro Top 10 music charts on their home page allowing you to easily find the best music.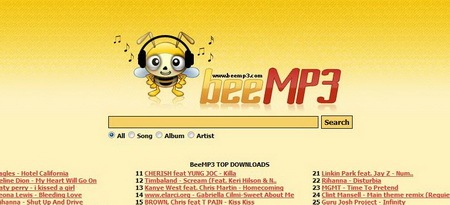 Findmp3s
The most obvious name, I must say FindMP3s has a cool 2.0 interface with a huge search form. It has the ability to allow us to browse the results by artists and the list of Top 25 hits.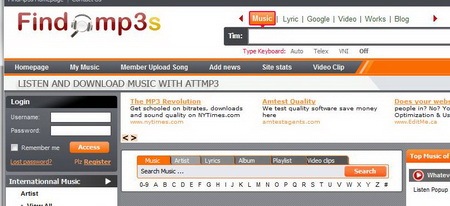 PumpYouUp
PumpYouUp is a music website which promotes Indie music, and small label artists related to Trance, Techno, House, Electronica and Dubstep genres of music. Ready-made collections are available in different categories for each season of the year, as well as New Year songs. You can listen to the songs by streaming them directly from the website or download them to your computer.
PulseRadio
PulseRadio is a web service that offers a lot more than just listening to music. With its focus on Electronic music, it offers users with a huge library of mix tapes, channels, music reviews and galleries. It contains a lot of interesting information on your favorite DJ's and allows you to listen to unique, underground tracks.
Seekmp3
Seekmp3 that is just another mp3 search engine that is very simply like other major search engine. However, this search engine support various of language like Spanish , French, Chinese , Japanese and etc.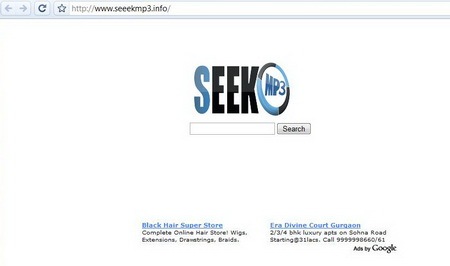 Music map
When you connect to Music-map.com, it asks you to give it the name of an artist. Then, based on what previous users have told it, it will display a cloud of artist names – the closer they are to the centre, the more likely you are to like them (or so the theory goes). If you want to look a little further afield, you can then click on one of the names in the cloud and it will create a new cloud with that artist at the centre.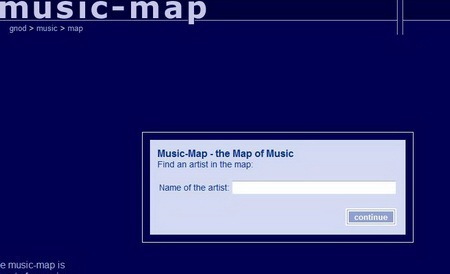 OurStage
Ourstage is a search engine and a site dedicated to new music and new artists, search music from the list of hundreds of new interesting artists.You can also participate by uploading your own music and sharing it with your friends.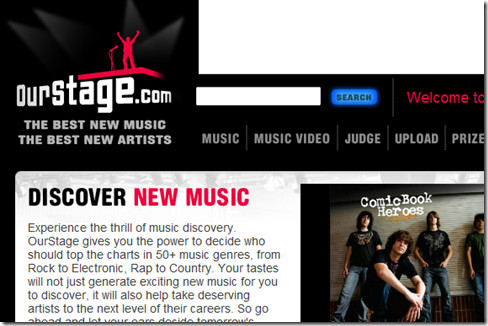 SweeTunes
SweeTunes is a music search engine that lets you create your own playlist, shows the top 10 music people are loving, and also the recently searched songs. You can also browse the list of top users and listen to their playlist.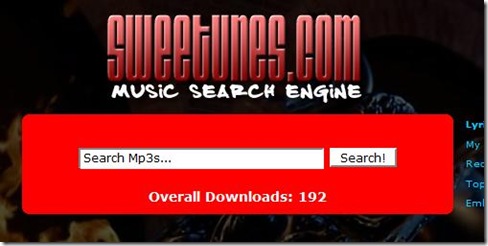 MusicGama
MusicGama is a simple music search engine that lets you listen and download any music of your liking. It is the easiest music search engine that people even in their 80s can use it.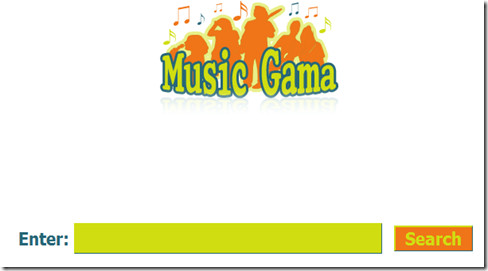 Guruji
Guruji is an indian music search engine that lets you search music from anywhere btw 1932-2008. Just enter the music name, movie name, or a singer's name and it will show you a list of songs which you can play. It calms to have indexed more than 400,000 Indian songs.This web service has been discontinued.