Resize And Crop Image With Microsoft Office Picture Manager
One tool that I use on daily basis is Microsoft Office Picture Manager. If you want to crop or resize the image immediately, then this is the best application to do it. I am not a big fan of Microsoft Office products, but this tool comes really handy when you want to edit a photo quickly. When you install Microsoft Office 2007, make sure that you install this tool too which comes pre-packed.
To start editing the image, right-click on any photo and select Open With, from the list  select Windows Office Picture Manager, if it is not given in the list, click on Choose Default Program. Now click on Other Programs(see screenshot) and you will find it there.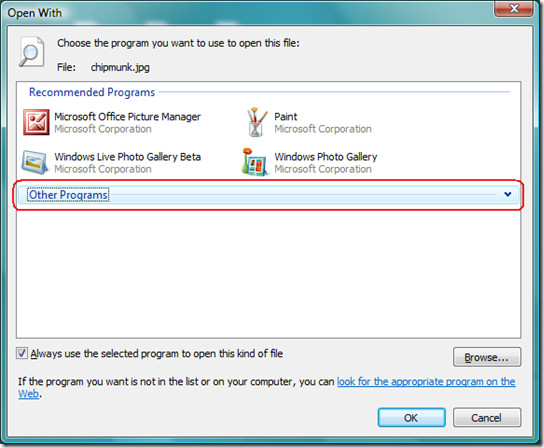 Once you have opened the image with Microsoft Office Picture Manager, click on Edit Pictures(see screenshot).

Now you will see Edit Pictures toolbox on the right side, now under Edit using these tools, click on Crop, and you will find multiple options to crop the photo(check screenshot).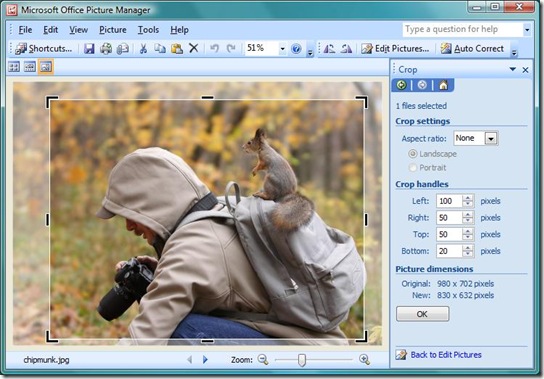 After you have done cropping click OK and click Back to Edit Pictures, now under Change Picture Size click on Resize. Here you will find various options to resize the image, there are list of predefined sizes, you can custom set them too and lastly you can resize on the basis of percentage of original size.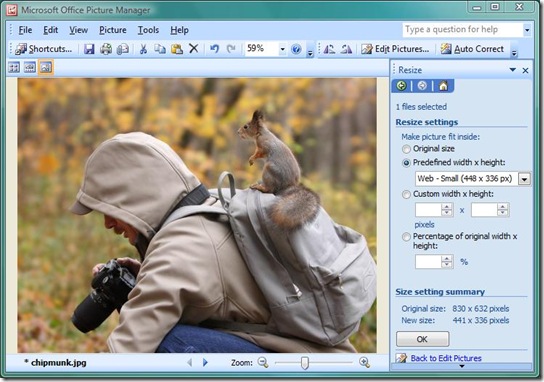 After you are done click OK.  Now you can save this new edited photo by clicking CTRL+S or by going to File > Save. That's it. Enjoy!