Use Bookmark, Add-On or Menu Bar From A Single Button In Firefox
A minimalistic interface gives you more space to see content on a web page but you often end up compromising some of your frequently used toolbars to a cleaner interface. Toolbars are usually the ones that are swept under the rug for the sake of more space; Buttonizer is a Firefox extension that lets you convert the menu, bookmark or add-on bar to a single button.The button lists all options, sites or add-ons when you mouse over it.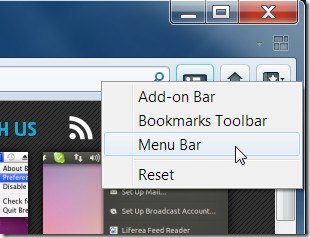 The great thing about this extension is that while it cleans the interface, it doesn't make life difficult for you by stashing you toolbar under some unknown option. The not so great thing is that it makes you choose; you can convert only one of the three bars to a button instead of converting all three.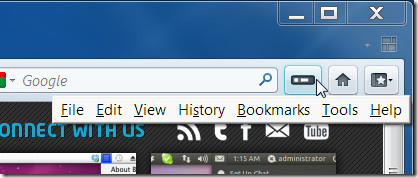 The button appears next to the address bar. If you've converted the menu bar to a button, it will list the File, Edit, View, History, Bookmarks, Tools and Help options. Which toolbar you choose to make a button is entirely up to you but if you go with the menu bar, you can also use it to access your bookmarks.
Install Buttonizer For Firefox