View Full Information About A Website With Link Extend Addon For Firefox
Link Extend extension for Firefox is a 'Swiss Army Knife' add-on that gives a user complete information about every website. You can know if it is a secure website, safe for kids, it's ethics, page rank, traffic, the last time you visited it, the pages you visited, it's value, contact details of the author, similar sites, and much more. In other words, you can get full information of any website to it's core.
Just install it and go through the setup process, once done you will see the toolbar as shown in the screenshot below. Since it has many build-in features, we will go over them one by one.

Safety
This will tell you about the website's safety rating according to various services. You will remember that there are various extensions such as WOT, Mcafee Security, SiteAdvisor, and many others that let you know about malicious websites. Now go ahead and click Safety button and you will find security rating of the currently open websites according to various security services.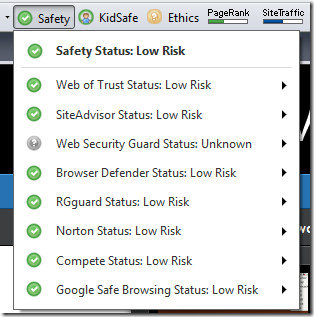 KidSafe
It is just another place that will let you know if the content of the website is safe for children or not.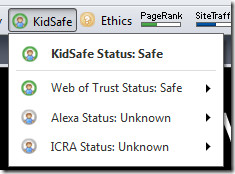 Ethics
Unless you won't visit a popular company's website this feature won't work otherwise. Just like you can see in the screenshot below that it can't find any information about AddictiveTips(I am not so popular).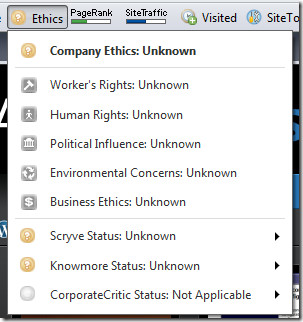 Page Rank
Well I don't need to explain what Page Rank is, but I have observed most people install Google toolbar to monitor pageranks of various websites. Since Google toolbar page rank didn't work properly in Firefox 3.5, you can use this at the moment. It also gives you some insight into other details, such as, incoming/outbound links, related links, cached links, etc.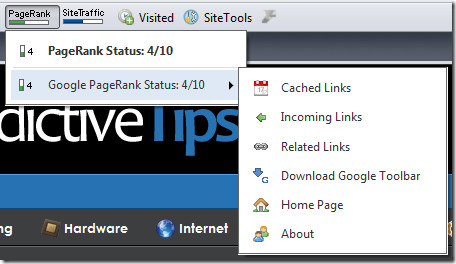 Traffic
Here you can find the website's traffic according to various traffic analytics services.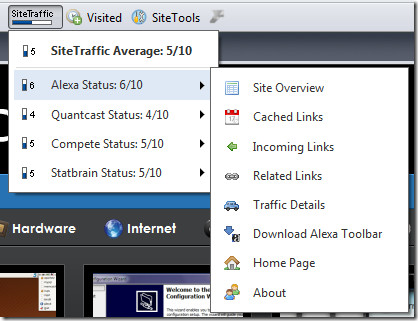 Visited
Want to know when was the last time you visited this website or when was the last page you visited on this website? Well you can know everything here. It uses Firefox History to list all the results. You can also clear the history of a certain website from here.

Site Tools
This is the place to know everything else about the website. You can find all internal links, titles, and files inside the webpage without even having to browse it yourself. Apart from it you can find contact information for the website's author, search for previous versions of this website, similar sites, and if you have opened any company's website then you can do a fast Wikipedia search on them. Lastly, you will find visitor demography, website value, technology performance, and domain buying options.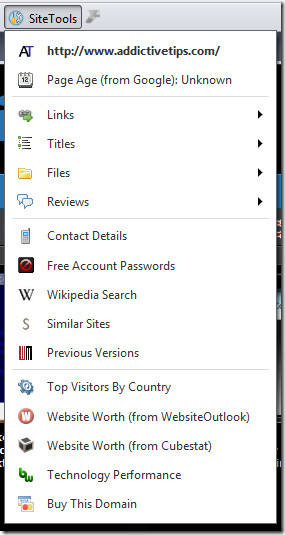 Overall, it is all-in-one powerful tool that helps user find any information about a website.
Download Link Extend Addon For Firefox
Enjoy!