WebMail Notifier Sends Notifications For Unread Email Messages [Firefox]
Are you tired of checking your inbox repeatedly, waiting for important emails? WebMail Notifier is a Firefox add-on that checks your webmail accounts, and sends you alerts for unread emails. When there are unread messages, the envelope icon on the Firefox status bar turns from grey to yellow, and displays notifications for unread messages. Right-click the envelope to open a pop-up sidebar or a pop-up window in order to view more details.
Once you've installed Webmail Notifier, simply add your email accounts and the add-on will check your inbox for unread or new messages. It supports multiple webmail accounts, such as Yahoo!, Gmail, Hotmail, AOL, Nate, POP-3, and many more. All you have to do is select an email service from the drop down menu, and add your username and password.
When you receive instant inbox notifications, just click them to go straight to your inbox using the auto and multiple login option. Alerts can be after a specific interval of time, and you can set the time interval using the check interval option. In addition to that, you can also import or export accounts, and use the up & down arrows to navigate through the list.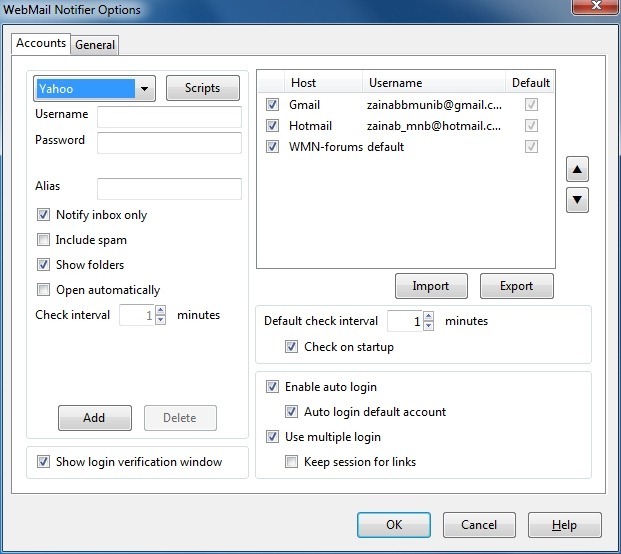 Emails can be set to open in either a new tab or new window. Users can play sounds for notifications and even add their own ones using the Advanced option. Interface can be manipulated to show a pop-up window for notification, or a sidebar.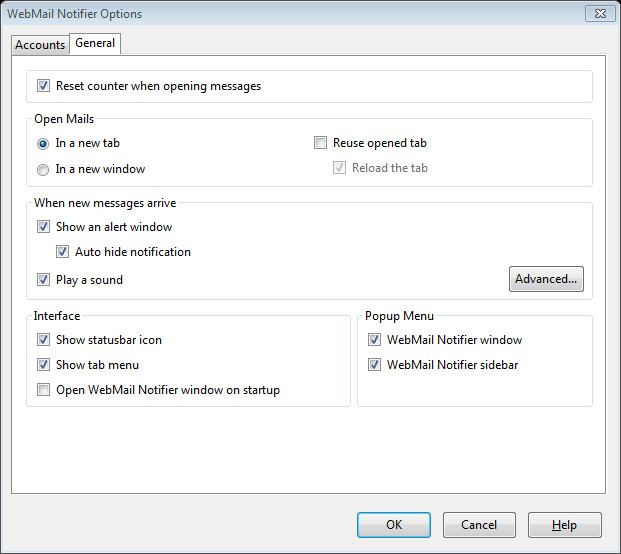 Right-clicking the little envelope icon on status bar also springs forth a few options, including access to configured mailboxes, force check for new/unread messages, help and options, among others.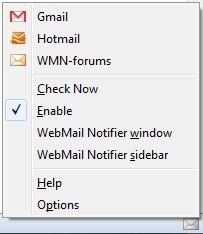 WebMail Notifier is easy to use and is completely free. Install this add-on from the link given below, and save yourself from the hassle of checking multiple email accounts (including webmails) continuously for new messages.
Install WebMail Notifier Add-on For Firefox