Lapse It For Android: Capture & Share Time-Lapse Videos On The Go
Fond of watching time-lapse videos of sunset at the seashore or clouds moving across the sky? Well, if you ever wished you could capture such time-lapse videos yourself via your Android device, then rejoice, for your wish has been granted. Lapse It (Native) is an Android app that captures consecutive snapshots at regular, user-specified time intervals, compiles them as a video file and hence, provides users with a chance to enjoy time-lapse videos on their devices on the go. The app, through its user-friendly interface and fully customizable video capturing, editing, rendering and scheduling options, allows simple and hassle-free capturing of quality time-lapse videos.
With Lapse It, you may render your time-lapse recordings with different settings as many times as you like, save them to your device, push them to the online Lapse It galley or share them with your buddies.
Lapse It lets users tweak every single facet of their time-lapse recordings, ranging from frame interval to the video quality/format. To elaborate on the customization settings, for each video that you wish to capture via Lapse It, you can modify the Time Scale (in seconds or minutes), Limit mode (manual, frame/timer-based), Resolution (from 240p onwards, depending upon the device's camera), Encoder (MP4, MOV or FLV), Quality (Low, Medium, High), Frames per second and more.
With Lapse It, users get a chance to tag Geolocation information along with their videos. Also, there is an option to Schedule video recordings as per defined date/time. That's not all, the app sports a handful of nifty post-processing video effects as well as a handy trimming feature that lets you manually specify the starting and ending frame of your video, either on a slider or by frame number.
On the app's homescreen, you have buttons to Start new capture, List captured videos (app's native gallery), access its Settings and upgrade to the Pro version (details later).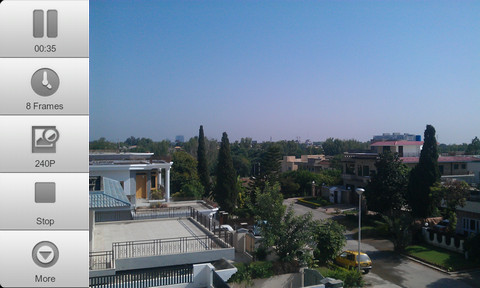 Capturing videos via Lapse It is simple. Just tap the Start new capture button to head over to the recording mode. The camera interface of the app provides you with an option to zoom in via a slider and contains various buttons for specifying capture interval as well as resolution settings. By tapping the More button, you can opt to auto-focus, apply various color effects and/or adjust white balance. Once done with display settings, tap Capture to begin recording (or rather, snapping photos). Once recording begins, the app keeps you apprised of the number of captured frames as well as the elapsed time and provides you with an option to pause/stop capturing.
Upon completion, recorded frames can be previewed in multiple ways. You may either play them as video or skip them frame-by-frame. From the same screen, you can check brief recording Info, avail the trimming feature, apply various effects to your videos or simply tap Render to manually specify render settings and title for your recordings.
The List captured button on the app's homescreen bags all the rendered as well as unrendered time-lapses. While rendered videos can be directly played, uploaded (to the Lapse It Gallery), shared and deleted from list, unrendered ones can be opened in editing mode for rendering, shared as image archives or removed.
Lapse It might not be the only time-lapse app on the Android Market, but it certainly is among the most feature-packed and one of the easiest to use. We didn't deem Lapse It 'user-friendly' for nothing. Easily accessible options within various app screens, a brief guide pertaining to every single feature included within the app and FAQs pertaining to commonly raised issues help making Lapse It as easy to use as an app of its kind can get. The best way to explore the utility of Lapse It is by heading over to the Market (link provided below), downloading it and finding out by yourself what it has in store for you.
Before hitting the download links, check out this short introductory video of the app (provided below) that perfectly demonstrates all its various features.
The free version of Lapse It is constrained to capturing time-lapse videos in lower resolution only (at 240p). To lift this restriction and unlock a couple of additional filters (effects), you can upgrade to the Pro (paid) version either from within the app or by downloading it from the Market for just $1.99.
Download Lapse It for Android (Free)
Download Lapse It Pro for Android (Paid)