LightExplorer Adds File And Folder Explorer To Notepad++ [Plugin]
Text editors come in all shapes and sizes. Some of them allow you to perform basic editing, while others are more focused on the development side of things, meaning that they allow you to work easily with programming languages. For example, some of the text editors contain sample code snippets that allow you to save time while writing code. Instead of starting to write the code from scratch, you can use the sample snippets and just edit them to get the required result. Notepad++ is a text editor that works perfectly, both when you are doing simple editing on plain text, and complex editing on codes. It is becoming a more powerful and useful text editor with every new plugin that is being added to it . LightExplorer is an open source plugin for Notepad++ that enables a file and folder explorer inside Notepad++, allowing you to save time by navigating from within the application. LightExplorer has the ability to remember the position of folder tree from last session, allowing you to resume your work exactly from where you left it. While viewing a document, you can view the position of the current document in the tree, and add frequently used folders to Favorites for easier access. More on LightExplorer after the jump.
To install LightExplorer , open Plugin Manager from Plugins—> Plugin Manager—> Show Plugin Manager. Under Available tab, select LightExplorer and click Install.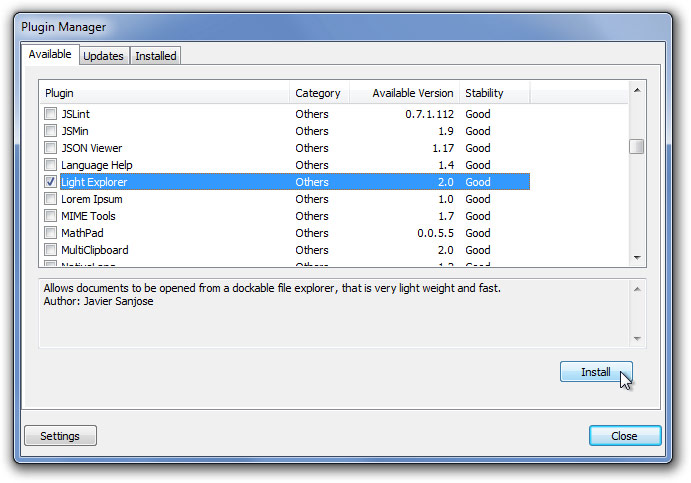 When installation is complete, enable LightExplorer from the Plugins menu at the top. It can also be enabled and disabled by using Alt + A hotkey combination.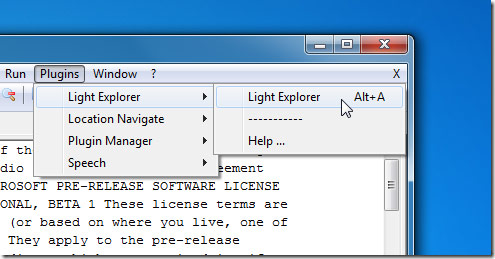 A directory list will appear on the left side of Notepad++'s interface. Right-click any folder and select Load tree state at start so that the tree doesn't collapse every time you exit Notepad++. You can also search particular folder by choosing Search from here from the right-click menu. Another very useful option available in the right-click menu is Add to Favorites, which lets you add folders to Favorites tab at the top for easier access.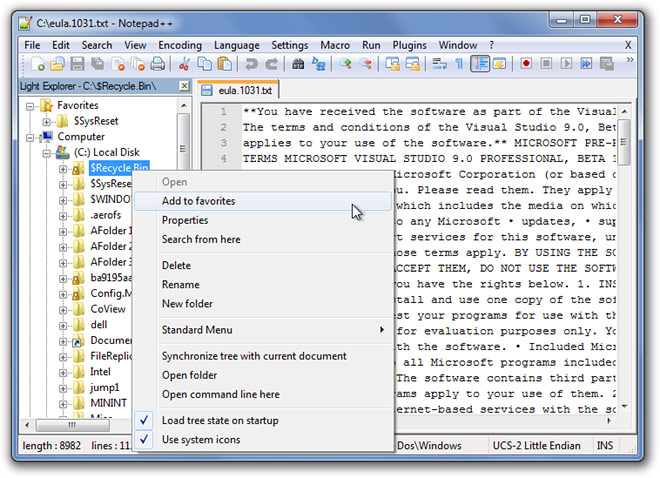 LightExplorer is an open source plugin that works on all versions of Notepad++. Testing was done on Notepad++ 5.9.5.