YouTube Time – Link To A Specific Part In YouTube Video
YouTube supports deep linking, which means you can link to any specific part of the video. This feature is quite old, but comes handy in certain times. To specify a point manually, add the following syntax at the end of the video link '#t=1m20s'(you can change the values of m and s to change the number of minutes and seconds, respectively).
YouTubeTime is a free online service that adds the syntax for you automatically. It can come handy if you want to deep link multiple videos and are too lazy to add the syntax manually. It consists of 3 simple steps, copy/paste the YouTube video URL, choose the start time, and finally click Get Link.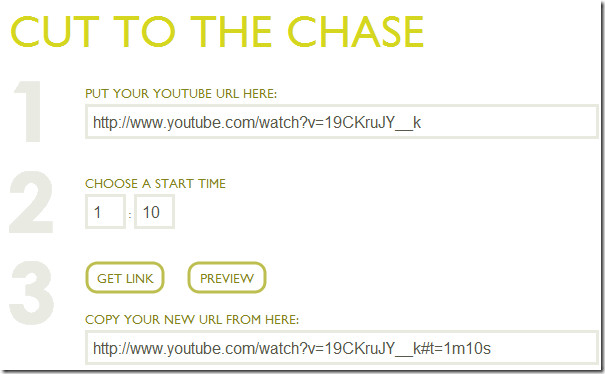 Clicking Preview will open the YouTube video in a new tab where you can check whether the time you choose is correct.
Features:
Straightforward, simple-to-use and free
No registration required
Ability to preview deep linked video
Enjoy!