Compile A Movie Of Your Life From Daily Photos & Videos On Android, iOS With '1 Second Everyday'
What if you could account for each day of your life with a one second video snippet or picture? Now imagine a compilation of this for the next ten years or more. I believe it could give a person an entirely new perspective on life and how each day should matter as much as any other day. This concept of recording ones life is not new at all, but it would be the first time that an app for Android has been released specifically for this purpose. 1 Second Everyday, which is also available on iOS, will compile photos of your choice and snippets from your videos into a movie about your life. Imagine flashbacks of ten plus years of your life – nostalgia redefined! The app offers a lot of convenience, sporting some very smart features, one of which involves sorting of photos and videos according to date. Read on after the jump for a closer look at the app's feature-set.
The interface is fairly simple; it's a calendar-based view of the media files on your device. Each date will show you whether you have photos available for that date, and in case there are videos, the day will be highlighted in orange, as shown in the screenshot above. Not only can you pick a photo or video to represent each day, you can add text as well, with or without media, to serve as captions or notes for important moments.
Adding a video snippet is slightly different from adding a photo. Just slide the scrubber, preview the snippet and hit the snip button in the top-right corner. Alternatively, you can add a new recording right from within the app itself, and add a clip from it.
The defining feature of this app is clearly the multiple timelines function, which allows you to track various aspects of your life – your kids and your life as a spy – separately. You can add as many timelines as you want and delete existing ones by hitting 'Manage Timelines'.
Tap the film strip icon in the bottom bar to start compiling a movie. You can choose from compiling an entire month or year, or specify custom start and end dates on the timeline. Once that is done, hit the tick mark at the top and the app will start compiling the video.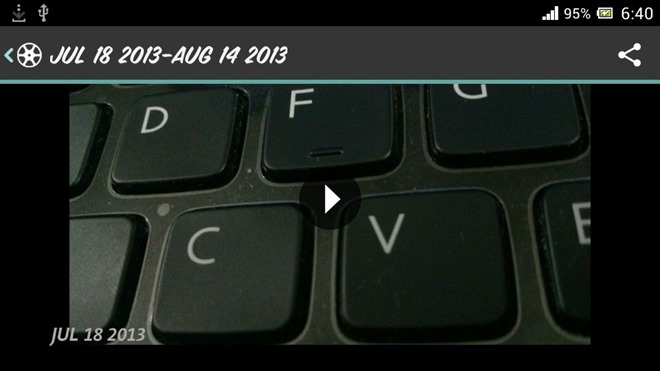 Once the movie is done rendering, the app will notify you of its completion in the notification area. It was good to see that the video snippets retained audio in the compiled movie.
The app also backs up your compilation to your Google Drive account, so you never have to lose your seconds if you change your device or format it. Oh, and it can be set to display reminders for taking pictures and videos each day.
Pretty amazing feature-set for an app with a relatively simple concept, no?
The app remains free for 30 days after installation. If you fall in love with it during that time and wish to keep it, it will set you back a meager $0.99.
Install 1 Second Everyday for Android
Install 1 Second Everyday for iOS