How To Add Transparent Icons To iOS Home Screen Without Jailbreak
Earlier, we discussed how it was possible to use custom icons for any app on iOS without jailbreaking. Well, in the words of Steve Jobs, there's one more thing: adding blank, nearly transparent app icons to your iOS device home screen without jailbreaking. In case you're wondering why would anyone want to do this, there are design enthusiasts out there who want to be able to customize the way their devices look, and since iOS doesn't offer much customization options for the Springboard, one way to tweak things your way would be to use a custom wallpaper designed with to work with transparent icons on top of it to add the visual effect you want. Check out how you can go about pulling off this apparent wizardry after the jump.
Credit for this method goes to dancerdudes from iFans forums – the same guy who came up with the online method for creating custom app icons. This method involves taking a screenshot of a blank home screen page, putting parts of that screenshot into an icon using a web-based tool called iEmpty, and then simply adding the said icon to your home screen from Safari like any other bookmark. Let's get started.
Requirements
Picup app installed from the App Store
Internet connectivity
Instructions
Press and hold any icon on your iOS device to enter "jiggle mode", and drag any icon to a new, blank page. Now swipe left to an empty page and take a screenshot of it.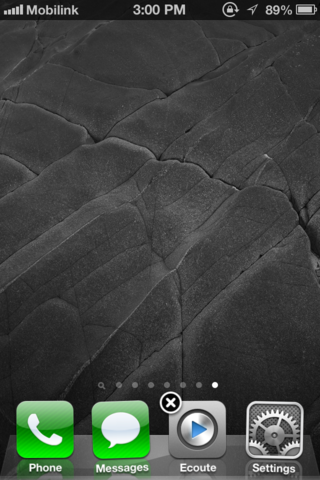 Open Safari and go to the iEmpty website. Tap CUSTOMIZE! > Custom Mode > Add > Upload Photo (Picup APP Method). This will launch the Picup app, provided it is installed on your device.

Once in Picup, tap Photo Library, choose the screenshot of the blank home screen and tap Upload Files.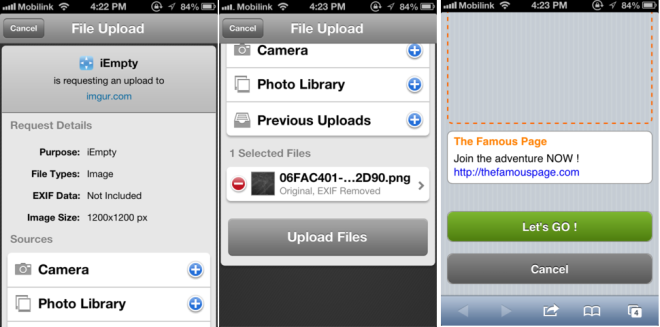 You will be taken back to Safari from where you need to scroll to the end of the page and tap 'Let's GO !' This will take you a page that has white icons with row x column numbers written on them. Tap the icon you wish to add to your home screen.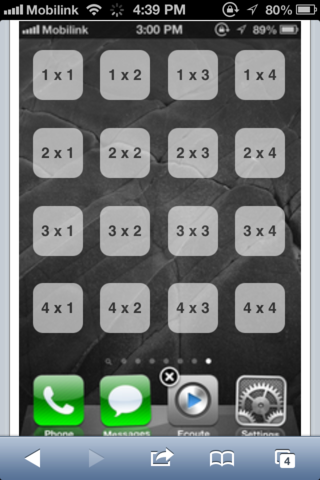 Next, add this icon to your home screen using Share menu > Add To Home Screen. Do not give the icon a name (it's a blank icon, after all!); simply tap 'Add'. That's it – you should now see an empty app icon on your home screen. You can drag and drop it anywhere you like, but for ensuring maximum transparency, you should place it at the exact row/column for which it was created e.g 1×1 would go at the top-left corner.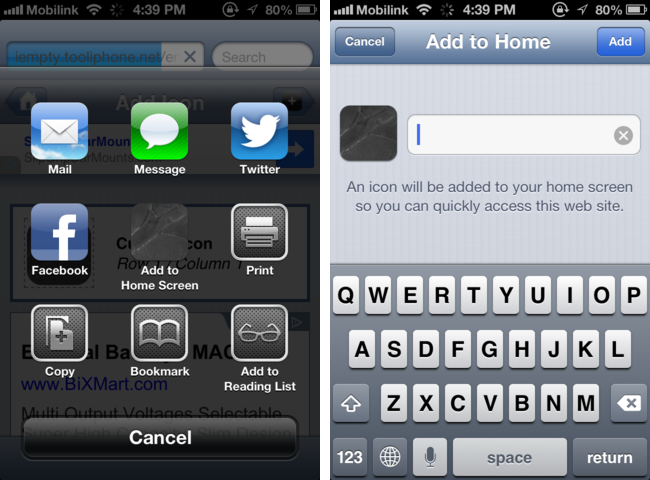 This certainly doesn't look as nice as it would if you used a jailbreak tweak, but it's the best you can get for now. It works best if you have a pitch black wallpaper.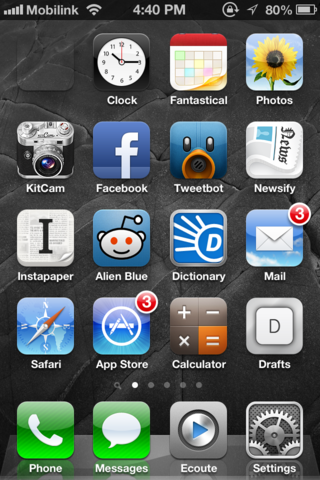 You'll have to do this for each icon separately. dancerdude recommends doing this in one go, otherwise you will have to upload your empty home screen again each time. Note that you can also add empty folder icons from CUSTOMIZE ! > FOLDER Mode on iEmpty's website.
For any further queries, please visit the official thread from the link below.
[via iFans]