9-Lab Removal Tool Is An On-Demand Virus, Rootkit & Registry Scanner
As malware continually evolving, so are the security firms that are fighting back with equally robust, top-notch security solutions. And thanks to an increased awareness, so is the end users' knowledge and expertise to keep their PC safe from malicious threats. 9-Lab Removal Tool is an advanced anti-malware app for Windows designed to take care of shady software lurking on your computer. The application effectively removes malware including viruses, trojans, rootkits, malicious registry keys, spyware  and other harmful or potentially unwanted items from your machine. The application comprises of a simple UI and boasts an advanced protection engine that can detect and remove malware from every nook and corner of your PC, including hidden locations and services launched at system startup.
9-Lab Removal Tool sports a barebones design and houses its navigation buttons to the left labelled Scanner, Update, Quarantine, Logs, Ignore list, Settings and Help. It four different scanning methods. The Quick scan option only analyzes primary system locations and registry keys. Flash Scan, on the other hand, is pretty fast but analyzes memory and autorun objects only. Users looking for a more thorough, deep level scanning of their system would want to opt for Full Scan, as it analyzes all the files and folders. And lastly, analyzing only a group of files and folders can be done by performing a Custom Scan method.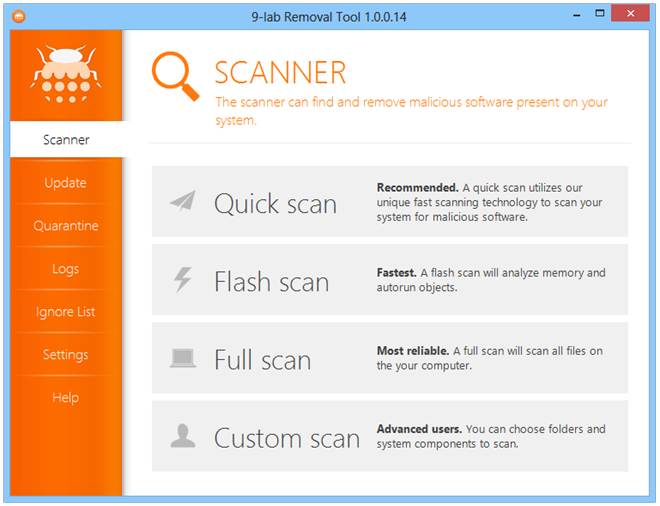 The application's malware detection engine is pretty robust. Simply click the scan method of your choice, and sit back while the tool completes the scan. The scanning time can range from a few minutes to hours, depending on the type of scan you choose, and the specs of your computer. During our testing, I gave Quick Scan a try and was quite surprised to see that 9-Lab Removal Tool detected six malicious files on my computer, albeit a few of them seemed false alarms. You can click the Show Results button after the scan to get more details regarding the suspected items. From there, you can choose to Quarantine the files, or let the application remove them. The application also creates Log files of each scan process that you perform.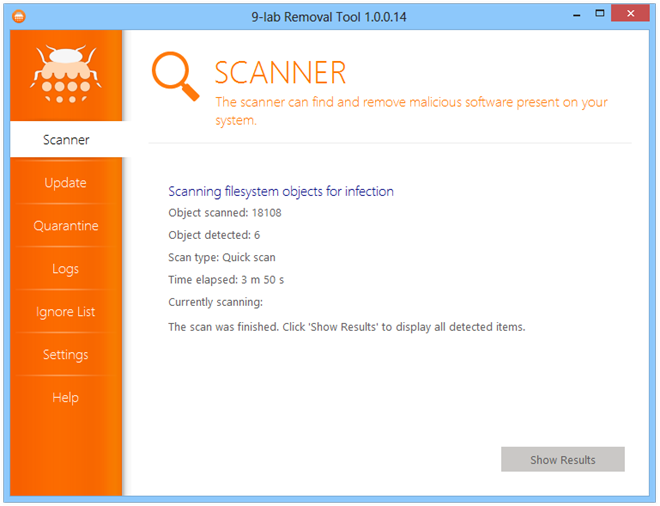 Keeping your malware definitions up to date is extremely important to ensure that the tool can remove the latest threats. You can check for and apply updates for not only the virus definitions but also the tool itself from the Update pane. Another interesting feature of the app is the Ignore List. It allows you to add custom items that you want to exclude from the scan process. This can come handy if you want to avoid false positives regarding trusted apps and files, that would otherwise get detected as malware due to the type of code they contain.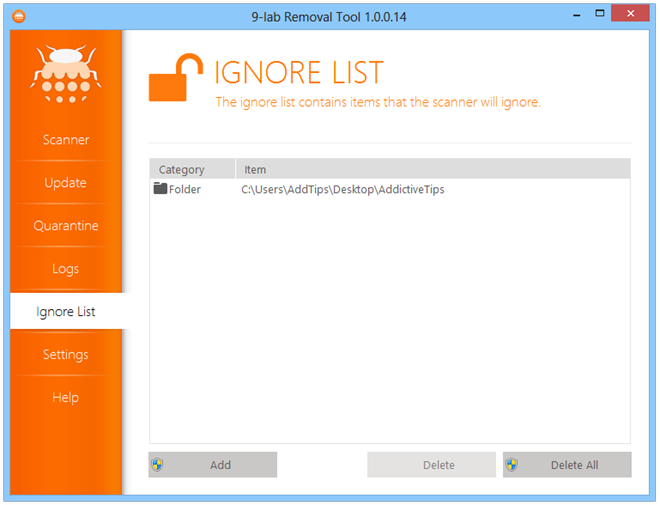 Though, not the very feature-rich anti-malware that I've come across, 9-Lab Removal Tool is an excellent utility to quickly detect and remove viruses and malware. It works on Windows XP, Vista, 7 and 8. Both 32-bit and 64-bit OS editions are supported.