AirAV: Stream Videos, Music & Photos From PC Or Mac To iPhone & iPad Over WiFi
Most iOS users aren't particularly fond of iTunes, and no one likes going through too much trouble if they just want to transfer a single video from a PC to their iPhone. Fortunately, there are many apps in the App Store that let users stream content between their iOS and desktop devices over WiFi. AirAV is one such app. Not only does it let you stream media from your PC or Mac to your iPhone or iPad, it also supports WiFi file transfer for most formats. The biggest advantage of AirAV is its ease of use. You don't have to go through a lot of configuration steps before getting to use it. Read on for details regarding this simple, but useful app.
Before you can start using the app, you have to enable DLNA on your PC or Mac. This depends upon the media server you intend to use. In most cases, you have to turn off your firewall, and enable the Allow Internet access to home media option in the player. If you are using Mac, it is better to use a third-party media player that has DLNA capabilities. Once the desktop-end is all set up, launch the AirAV app on your iPhone or iPad. Go to the Media Explorer section of the app, and if you configured everything correctly, your UPnP/DLNA media server should be visible there. Just tap its name to view a list of all the folders that have been synced with the server from your computer.
AirAV can basically stream images, videos and music. The file formats supported by the app are pretty vast in number. If both your devices are on the same WiFi network, you can begin streaming your computer's videos or images simply by hitting any file in the displayed list. AirAV will let you sort the files on the basis of their names, date of creation, file format and a number of other criteria. The app even divides the media into different folders of its own accord, based on the keywords associated with them.
The image viewer in AirAV is pretty simple, with a couple of buttons for navigation. The music player, too, is pretty plain and resembles the stock Music app. The app supports almost all popular video formats, but for HD videos, the result might be a bit slow and laggy. You can rectify this issue by heading to the app's settings menu and turning on the skip frame option. From the same settings menu, users can download files from their computer to their iDevice over WiFi. AirAV will provide you with an address that you can enter into your PC's or Mac's web browser to upload files to your phone.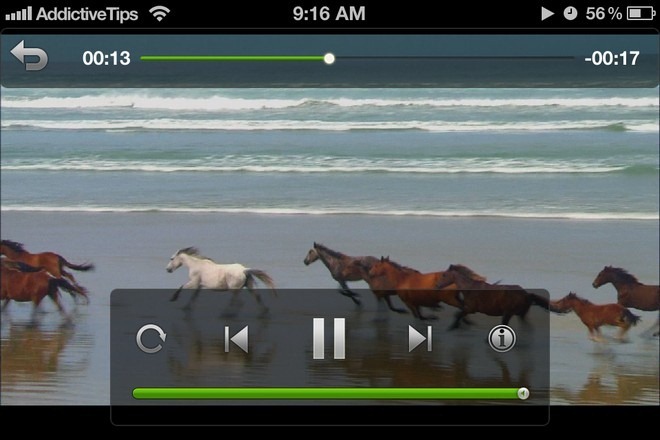 AirAV is a nice app, one that you don't come across everyday. It has quite a few customization options, is universal (optimized for both the iPhone & the iPad) and best of all, currently free for a limited time.