Find Where Rare Pokémon Were Caught By Other Pokémon Go Players
Pidgey, Rattata, and Doduo are some of the most common Pokémon that spawn. They will literally spawn everywhere and you will soon find yourself trying to avoid collecting them or running into them in your quest to find the more rare Pokémon. The rare Pokémon are what players are after and with theories of them spawning in certain places, and certain habitats still abound, you're probably wondering where your friend might have caught Pikachu. Poke Radar is an free app for iOS that lets you look up where Pokemon players are capturing any and all Pokemon. The app lets you select any Pokemon that you want to catch and then shows you on map where other players have caught it. You can then visit these locations and hope for it to spawn again. The app crowd sources its data so if you find a particular Pokemon some place, you can contribute to the data and help other players find the Pokemon.
Install Poke Radar and allow it to access your location. Tap the 'Filter' button at the top left and select which Pokemon it is you want to catch. Tap 'Submit' and you will return to the map screen.
The map screen will tell you how many of the selected Pokemon have been found as per its database. Zoom in/out until you see the selected Pokemon appear on the map.
Tap the nearest Pokemon sighting to get details. The details include who found the Pokemon, what time it was found, and directions to where it was found. The app can open the location in the default Maps app and you can get directions for it. If you're successful in capturing the same Pokemon from the location, up vote it so that other players know it's good.
As mentioned earlier, the app crowd sources its information and if you benefit from it, you should contribute to it as well. To submit a Pokemon with the location you found it, tap the little marker pin at the bottom right. Enter your trainer name, select which Pokemon it was you found, and tap 'Submit'.
Poke Radar has a web interface that you can use if you're on Android. The app claims to have an Android version but the link to it is broken. Your best bet is to use the web app. It works more or less the exact same way as the iOS app does.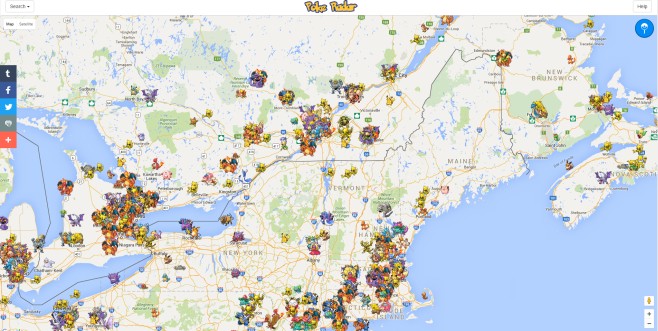 We should also mention that you should be very careful when you go Pokemon hunting. The app is meant to help players and most players are friendly and helpful but that doesn't mean everyone is. It isn't worth it to venture to unsafe locations for the sake of a game.
Install Poke Radar From The App Store