Google Drive Update Lets You Lock Your Files Behind A 4 Digit Passcode
Locking apps or restricting access to them on an iOS device requires jailbreak and even then, it comes with limitations. This means your apps, and the data stored in them is at risk. A cloud drive, or rather a cloud drive app is where some of our most critical data is stored and in light of how important it is to keep our files super safe, Google has released an update for Google Drive that lets you lock your files behind a a 4 digit passcode. This passcode is independent of the 4 digit passcode you might have used to bar unauthorized access to your iOS device which means that if your phone is unlocked, your files stay safe.
Update the app and open it. Navigate to Settings and scroll down to see the newly added Passcode Lock option and turn it on. The app will ask you to enter a passcode for the app twice, once to record and the second time to confirm it.
That's it, your files are now safe. Word to the wise; do not keep the same passcode for Google Drive as the one you may have set for your device.
The great thing about the passcode screen in the app is that it lets you switch between multiple accounts and you can choose to have a passcode set for select accounts, leaving others unprotected. When you enable the passcode you will see an option to 'Always Lock' the drive. If you do not enable this option, Google Drive will only ask for the passcode after 15 mnutes of inactivity or when you switch between two different accounts. If you enable it, the app will ask you to enter the passcode every time you open the app. Needless to say, enabling it is the more secure option.
So far, it seems Android users have lucked out. Though the Google Drive app on the Play Store was updated as recently as yesterday, the passcode feature is not part of the changes. Of course Android users can search for and use another app that will let them lock Google Drive and any other app behind a passcode (or even a secret handshake) but it won't beat the comfort of having the Google Drive app provide the feature itself.
I Forgot My Google Drive Passcode
Google Drive gives you 5 attempts to enter the correct passcode. In the event that you've forgotten it, you will need to remove that account from the app. Doing so will also remove the passcode you associated with the account. Log in again with your Google account and set a new passcode. It's slightly unconventional if you consider that Google lets you log in with your Google password if you forget the passcode on your Android lock screen but wants you to remove and add an account to recover the passcode in iOS.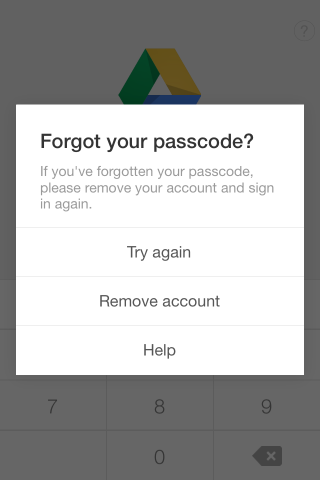 Now we wait and see how many other cloud drive services follow with the same feature.
Download Google Drive for iOS from the App Store