Jasmine: A Beautiful YouTube Client For iOS 6 With Background Play
The official YouTube client for iPhone and iPad has been around in the App Store for a week now, and even many pre-iOS 6 users have switched to it, thanks to the app's interface and features that give it a clear edge over the stock YouTube app in iOS 5. As good as the official app is, it is still far from perfect and can use a lot of improvements in many areas. That's where the new Jasmine app comes into the scene. Jasmine is a feature-rich YouTube client with a gorgeous interface. The app offers options like uninterrupted background audio playback for any video, resuming playback where you left off, playlist management and spam filtering. Apart from these bonus features, Jasmine has everything that is available in the official YouTube client for iOS.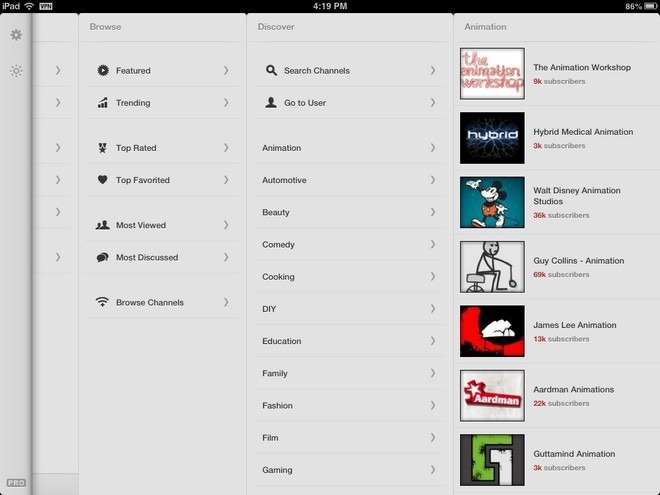 Jasmine has a cascading interface, and hitting one option will take you to the next menu in the same screen. Like all good YouTube apps, Jasmine offers browsing options like Featured, Trending and Top Rated even if you are not signed in. The search button is pretty unique, too, and when you tap it, it just flips over to reveal a textbox. If you are in the mood for some random browsing, hit the Browse Channels button and choose an appropriate category. The main menu in Jasmine will let you login using your YouTube credentials, and once that has been done, it is possible to view and manage your playlists. Jasmine's playlist management is one of the things that make it better than the official YouTube app for iOS. Not only can you add and remove videos from existing playlists, it is also possible to create a new playlist from scratch.
The playback options offered by Jasmine are truly awesome. If you are signed in to your account, you can comment on any video, and the sharing options match the ones present in the service's desktop version. There is no in-app video player in Jasmine, but the app makes up for that deficiency by coming up with background audio play. If you are listening to music on YouTube, simply start the video and exit the app, and the audio won't stop. Other than that, Jasmine remembers the point where you stop playing a particular video, and will resume from that exact point even if you return to it after a long time.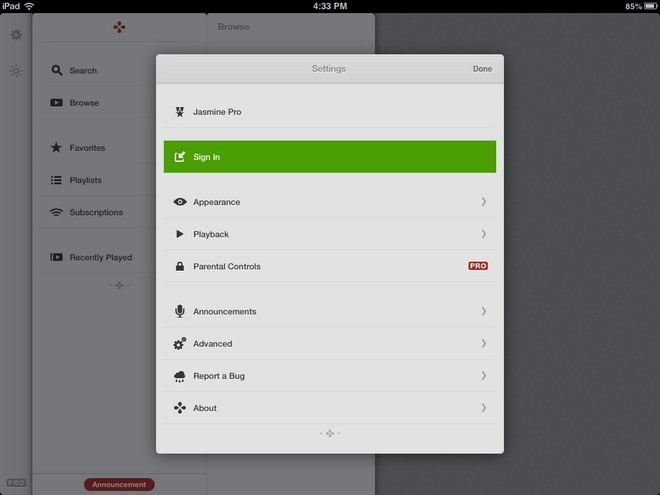 By upgrading to Jasmine Pro, you can turn on the app's spam filter, but this feature isn't accessible for now since the in-app purchase section of Jasmine isn't currently working (as acknowledged by the developer). An interesting, hidden feature of the app is its profanity filter. Searching for any "dirty" word won't return any results, even if there are corresponding videos on YouTube. Maybe it will be possible to turn this filter off when the Pro version becomes available, but for now, we didn't see any such option.
Jasmine is a fresh release, so expect some bugs, but the overall user experience puts it ahead of the official YouTube client for iOS. The app is universal (available for iOS 6 only), and you can download it for free by heading to the link below.