Maxjournal For iPad: Maintain Your Journal & Back It Up To The Cloud
We have covered a lot of journal apps for iOS, but we keep coming across different new ones that bring something refreshing to this seemingly narrow area of app development. The latest contender to make its presence known to us is Maxjournal for iPad. Although the app is a bit limited due to its unavailability for iPhone and iPod touch, it is still good enough to merit a review here. So, what makes Maxjournal different from other iOS apps of its kind? It has a lot of fancy features, like customizable backgrounds and multiple fonts for entries in your journals, but the best thing about Maxjournal is the fact that it lets you create a backup of your journal, and you can import entries from your backup pretty easily, too. Maxjournal lets its users create as many separate journals as they want, and you can add up to 30 photos to each entry of all journals.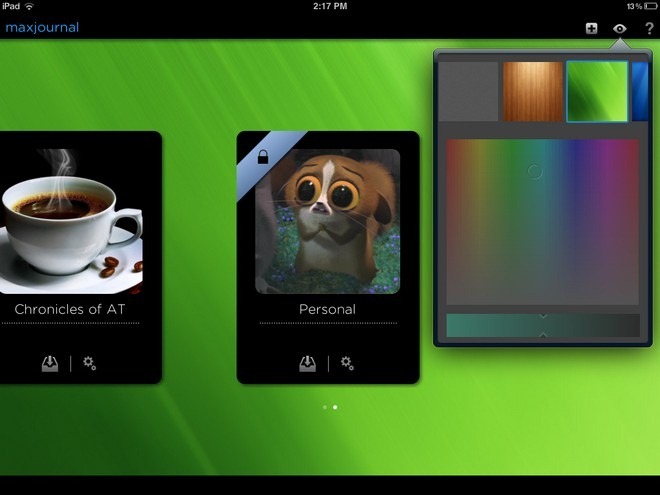 Just the way good journal apps should be, Maxjournal has a really simple interface. To get started, hit the '+' button located in the top bar of the app, and you will get the option to start a new journal, or import one from the file sharing area of Maxjournal in iTunes. Before you begin, though, hit the eye icon, and adjust the app's looks. Users can choose any color or texture they want for the background of the main page in Maxjournal. For each new journal you create in the app, you have to provide a title, along with other details like cover photo, page theme and password. It is not compulsory to put a password on all journals, and users get to make that choice.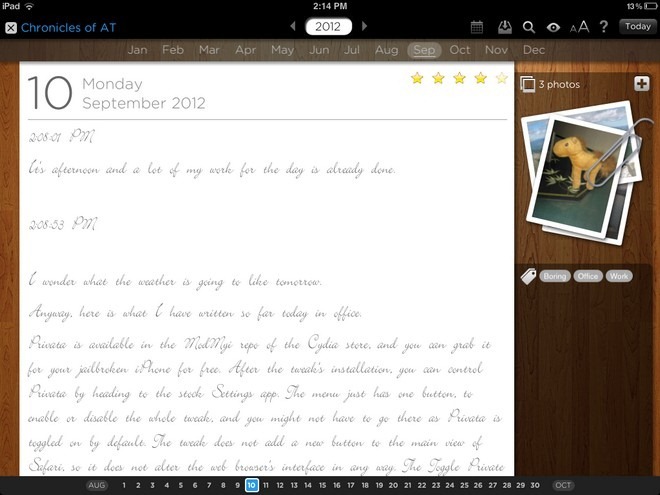 Once inside a journal, you are automatically taken to a new entry marked by today's date. It is possible to rate any entry using the stars provided in the top right corner of the page. To help you neatly sort out all your writings, Maxjournal supports tagging. You may create as many tags as you want, and add them to any post. With each entry, it is possible to attach images from your iPad's camera roll. The top bar in text editing mode lets users change the font type and size, and you can also choose to search for a particular word in the current entry. Individual posts can be backed up with Maxjournal's iTunes syncing, and if you want, it is possible to easily export files via desktop or iTunes file transfer. The app allows you to export and backup files as PDFs or simple text.
Maxjournal has gone free for a limited time, and for all iPad owners who like to keep a detailed diary, the app should prove to be a pretty good addition to their device.