Remotely Track & Control Your Lost Or Stolen iPhone With inner
Anyone who takes security seriously, or has had a mobile phone snatched from them in the past, might already be using apps like Prey on their smartphone. Prey is arguably the most popular anti-theft solution available on iOS and Android but if you own a jailbroken iDevice, there are also some less feature-rich yet effective alternatives to the Prey app out there. ICaughtU might not track your stolen device for you, but it can be used to get a photo of the thief. There is certainly a lot of potential in Cydia apps when it comes to countering phone theft, and inner demonstrates that quite clearly. This app has a ton of features, which make sure that every base is covered in case your phone gets stolen. inner can spring into action automatically when an unauthorized SIM is placed in the device, and also allows you to send commands to your phone remotely using the app's desktop companion.
Although it is not possible to sign up for a new inner account from within the iPhone app, the rest of the configuration must take place on the device. First of all, enable inner using the toggle at the top of the options list. The options below it can be used to define your strategy for the time when your device gets lost or stolen. To give the device a heads-up in such situations, it is possible to register your SIM card with inner so that whenever an unrecognized card is detected, the device goes into theft mode. In this mode, depending upon your choices, inner is capable of tracking your phone continuously, or at regular intervals. To complete the security, users can set a password on the app, or make its icon disappear whenever foul play is detected.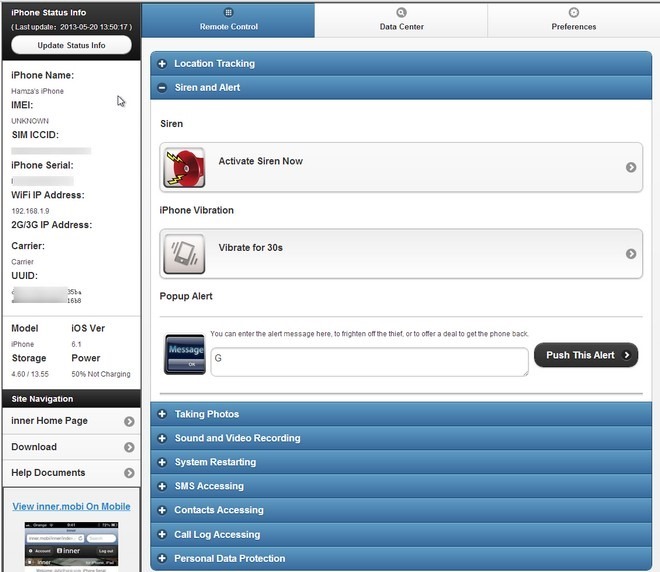 So now that you have configured everything on your device, it's time to visit inner's website (www.inner.mobi). Creating an account is easy, and requires just your email ID and a new password. To connect your iDevice to this account, you have to enter the 'Serial Number' from the About section of your phone.
Users who are logged in can send a host of commands to their device, regardless of whether it has an authorized or unauthorized SIM in it. These commands deal with tracking, alerts, data and accessing different parts of the device. Some of the features include the ability to protect your personal data remotely, accessing SMS or getting texts forwarded to a new number, shooting photos of the thief at intervals of your choice and viewing call logs. Even the 'Siren and Alert' section is pretty thorough, letting you send a 30 second-long vibration, a siren or a text alert to your device.
inner has been around in the Cydia store for a long time, but it is now available for free. The rather long feature list might appear to be a little intimidating at first, but the app is a worthwhile download and should reside in your device as a safety precaution. Give it a go by heading to the ModMyi repo of the Cydia store.