How To Save Photos To The Files App In iOS 11
The Files app is a new addition to iOS 11. It's not quite the file browsing app that you get on Android but it's something. It's one of those few new additions that will be available on all supported devices. It lets you view all your files in your cloud drives, and even on your phone. The tricky part is saving files to it. You can access files from your cloud drive but there's no obvious way to save a file to one of the supported locations in the Files app. If you want to save photos to the Files app in iOS 11 for example, you need to go through the Photos app.
Save Photos To The Files App
Open the Photos app and tap a photo. If you want to save multiple photos, tap Select at the top right and then select the photos you want to save to the Files app.
Once the photo(s) has been selected, tap the share button. On the bottom row of app extensions, look for the Save to Files extension. Tap it.
This will open the Files app where you can select a folder to save the photo(s) to. If you want to create a folder though, you can't do so here. You will need to open the Files app and create the folder there. After that, you have to return to the Photos app to save photos to the Files app.
Tap the folder you want to save the photo(s) to. Unlike most cloud drive apps or file explorer apps, the folder doesn't open. It is simply highlighted. Tap Add at the top to save the photo to the selected folder.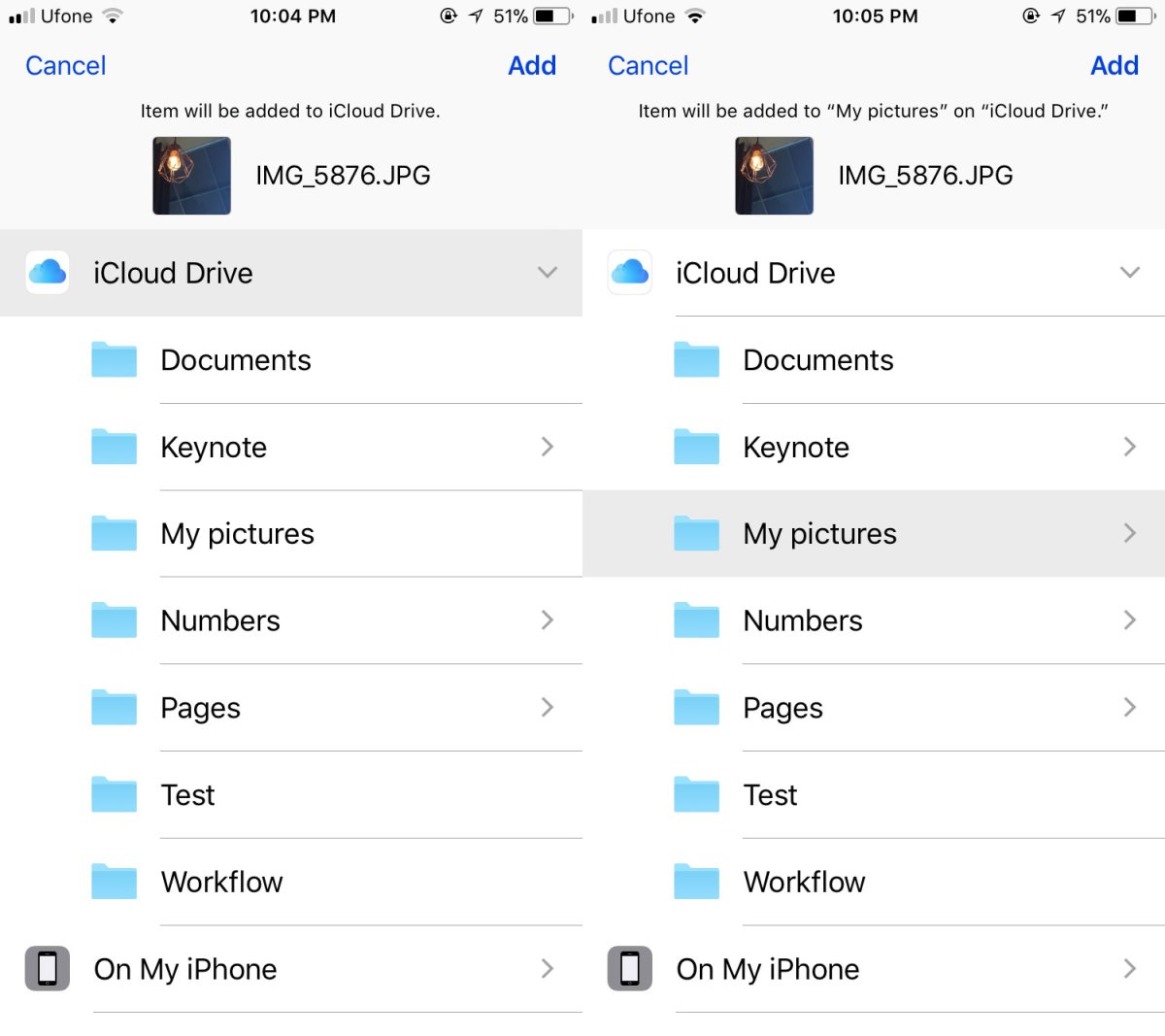 Saving Other File Types
The Files app has an extension so that means any app that supports the Share function will be able to save files to it. For example, you can save photos from Facebook and/or Twitter directly to the Files app. All you have to do is open an image, tap and hold to bring up the share menu, and look for the Save to Files option.
For other file types like PDFs or Spreadsheets, you will need an app that can actually open them. Apple's Numbers app, Google's Sheets, and Microsoft's Excel all fit the bill. Simply open a file in a supported app and look for the share menu. You might have to dig around for it a bit but the option is there.
Remember that Files is not a universal file viewer. It can open select file types but not all of them. Additionally, you will not be able to edit files inside the Files app. Apps that can save files to the Files app can normally import files from it as well.