Select How Long Your Snaps Are Visible In Snapchat
Snapchat works on a sense of urgency, a fear of missing out if you will. It's disappearing messages i.e. snaps force users to interact with it whenever there is new activity. Snapchat is not like other social media apps where you can get back to a notification when you have time. It's always been like that and was actually what was unique about the app. These expiring messages, and the limit on their availability has been copied by Facebook on Messenger, Instagram, and Whatsapp. Snapchat has just made a substantial change to how you share snaps. You can now control how long your snaps are visible on Snapchat. The default time is 3 seconds but you can increment it by one second up to ten seconds, or set it to be visible infinitely.
Update the app to set how long your snaps are visible in Snapchat. This is a new feature added via an app update. Open the app and take a photo like you normally do. Tap the Edit button to edit the snap before you send it.
The edit options now have quite a few new controls. For our purpose, tap the little stopwatch icon with the number 3 in it. By default, Snapchat lets your friends view one image for 3 seconds and then it disappears automatically.
From the timer screen, select how long your snaps are visible to your friend(s), and then return to the editing screen.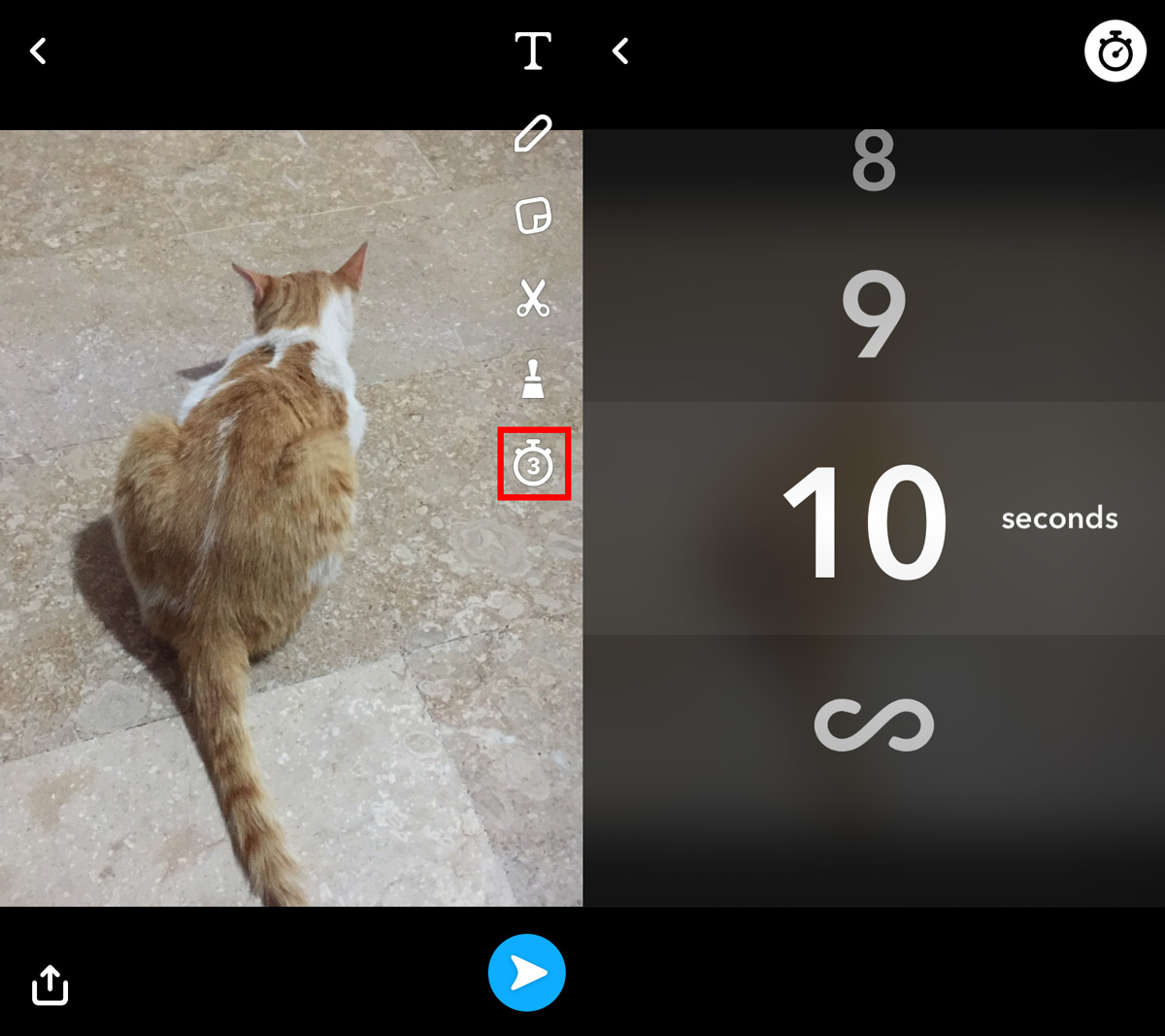 This feature requires a little explanation. Your snaps will still only be visible once. This only changes how long they are visible. For example, when your friend(s) saw a snap, they could look at it for exactly three seconds and then never again. There was no choice in the matter on either end as to long a snap would be visible.
When you change the visibility time, you control how long your friend(s) can view the snap before it expires. If you set it to anything between one and ten seconds, the snap will expire automatically. If you set it to infinite though, the snap will remain visible until your friend(s) navigates away from it.
The snap will still only be visible once. Your friend(s) will not be able to go back and view it multiple times. Essentially, snaps are still self-destructive but you can tweak the timer on them. It's a slight balance on the sense of urgency you might have when viewing a snap. It's also good if you like to take time viewing a particularly busy image.