Swipe To Switch Between Messaging Threads In iOS With MessageSwiper
Those of you who like sticking to stock iOS apps unless there is a supremely better third-party alternative available are sure to have been tempted to ditch the Messages app in favor of biteSMS or GO SMS. Having said that, a lot of tweaks in the Cydia store let you improve the stock SMS app on your iPhone. With ImmediateSend and Messages, you can revamp the app and give it a completely new look. Not every tweak has to be as feature-rich as MessageSwiper in order to be useful though. MessageSwiper has just one purpose, but the feature it is offering is sure to come in handy in a lot of situations and for a variety of users. The tweak lets you navigate to different messaging conversation simply by swiping across the screen. This basically means you aren't forced to go to the Messages app's main screen, from any conversation screen, and can continue going through your texts in a very convenient manner.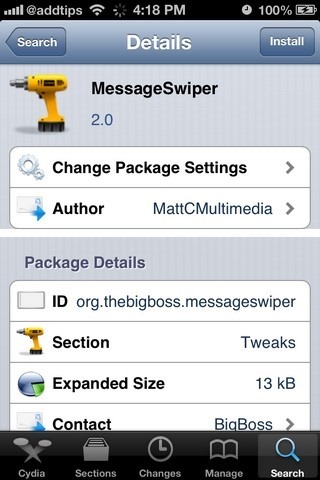 MessageSwiper is a very simple tweak, and does not require any configuration. As soon as you have installed it to your iDevice, the tweak takes effect. There is no Settings menu or SpringBoard icon dedicated to MessageSwiper. To see it in action, just launch the stock Messages app, open a conversation thread and start swiping from the extreme left of the screen to the right. You should now be able to view the SMS thread located just above the current one. Similarly, a swipe in the opposite direction lets you see the next thread. For now, the transition between two threads is instant, but the developer has promised to beautify the process in the future by adding an animation to MessageSwiper.
While that's about it for the functionality offered by the tweak, there is something more to it as well: if you are a user of biteSMS, the swipe gesture works in that app's conversation threads as well! According to the developer's Cydia description of MessageSwiper, the gesture should also work in WhatsApp, but it wasn't functional during our test run. It would be safe to assume that support for WhatsApp (and perhaps even more messaging apps) might be added to the mix in the future.
MessageSwiper is a free tweak, and can be downloaded from the BigBoss repo of Cydia store. The tweak doesn't come with any specific firmware requirements, so we are assuming it works on both iOS 5 and iOS 6.