Configure Your Home Theater To Perfection With THX tune-up For iOS
For decades, cinemas and commercial theaters have been making use of THX standards to ensure high quality of audio and video. THX offers a set of rules for the optimal viewing experience on any medium, complete with guidelines to set up speakers, displays and projectors with ease. Until now, THX has mostly been useful for cinema owners but with the advent of home theaters and better television sets, the brains behind the standard set have resolved to make THX mainstream. THX tune-up is a newly released iOS app that helps you set up your own media equipment properly, according to THX standards. Not only does it have detailed tutorials, but the app also scans your devices for perfect sound, color, screen and connection settings. The instructions are available in both text and audio formats, making THX tune-up a perfect companion for configuring a full home theater without being a rocket scientist.
THX tune-up has a video tutorial to help you get started. In addition to that, there are graphical instructions scattered throughout the app. If you are ready to configure something straight away, connect your iPhone to the intended TV or display. You can make the connection via HDMI, AirPlay or VGA. The next step is to head to the 'Equipment' tab, and choose the specifics for the device you intend to set up or test. For displays and speakers, you are asked to choose the brand of the device. To make things a little easy for THX tune-up, tell it if your TV/sound system is THX-certified. There is no need to enter the exact model of the device, since specifying its generic type does the trick. For speakers, it is possible to test both stereo and surround sound systems using the app. The last thing you need to do in the Equipment section is choosing the type of connection you have used to link your iDevice with the equipment.
Now that THX tune-up has recognized your equipment, you are ready to get down to configuring everything. Under 'Picture Adjustments', there are steps for checking your display screen's aspect ratio, brightness, contrast, color and tint. Some of these steps consist of nothing more than instructions that you have to follow on your own, but others (like color and tint) overlay different color filters with the picture on the screen to ensure that everything is in perfect order. If you are satisfied with a particular adjustment, mark it as 'Done' and move to the next. At the end of the cycle, THX tune-up offers a complete review of all the adjustments you have made.
For sound, the phase and balance of speakers can be tested simply by tapping some icons the app shows you for the purpose.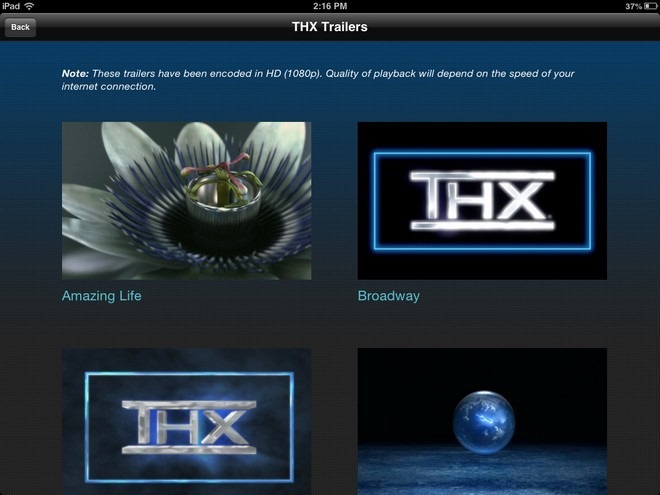 In case you want to test your equipment to see the results, THX tune-up has a few 1080p video clips in the 'Extras' section to play. You can stream these trailers to any device you want.
THX tune-up is optimized for all iOS devices, and works pretty well for all brands of equipment you can think of. For now, it is available for free, but this might change in the near future. So, head to the App Store and grab it right away.