Wireless Drive: Create, Edit & Wirelessly Transfer Media Files & Docs On iPhone Or iPad
A lot of apps can let you transfer files from your computer to your iPhone, but not many of them come with proper viewers for even the most popular file formats. After all, there isn't much use of being able to carry a lot of documents in your iPad, when you can't even open and read them. This is where Wireless Drive has an edge over many apps of its kind. Sure, the app can be used as a USB flash drive to carry important files in your iDevice, but the best thing about Wireless Drive is that it lets you view or play most of the files stored in it. The app allows its users to transfer files from their computers, other iOS devices and even supports Dropbox and iCloud. You can rename files in Wireless Drive, sort them in any way you want, and create folders for more thorough management.
Wireless Drive can be used for two purposes; creating new files and importing ones from external sources. The app offers options to let users create text files, audio recordings, photos, videos and playlists. You can access all these options by hitting the big '+' button located at the bottom of the screen. The audio recording and text file creation menus are pretty simple, and do not offer too many fancy options. The real usefulness of the Wireless Drive app is revealed when you hit the last button in the bottom bar. This is the the file import button, and offers three ways of transferring files to your iPhone or iPad. You can transfer files between your iDevice and computer, between two iDevices or there is the option of accessing your Dropbox account and grabbing the files stored there.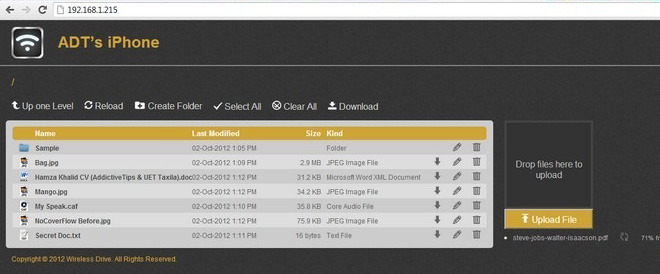 If the file transfer is taking place over Wi-Fi (Bluetooth file share is available too, for iOS to iOS to mode), you will have to enter the IP address provided by Wireless Drive in your web browser. The web interface of Wireless Drive is quite easy to use, allows drag and drop, folder creation, downloading, renaming and deleting of files. To download files in bulk, hit the Download button in the top bar after selecting all required files. Within the iOS app, in addition to renaming files or sorting them in a number of ways, you can make sensitive files read-only, which will prevent others from making changes to them. To make everything even more secure, Wireless Drive offers a passcode lock of its own.
As mentioned earlier, the list of file formats that can be viewed in Wireless Drive is pretty huge. Everything from documents to media and Office files are compatible with the app. Keeping this and the extensive feature set of the app in mind, we weren't surprised to see that the app is only free for a limited time, as long as the devs are celebrating its fresh release. So go on and grab it for your iPhone or iPad while the offer stands.
Download Wireless Drive For iOS